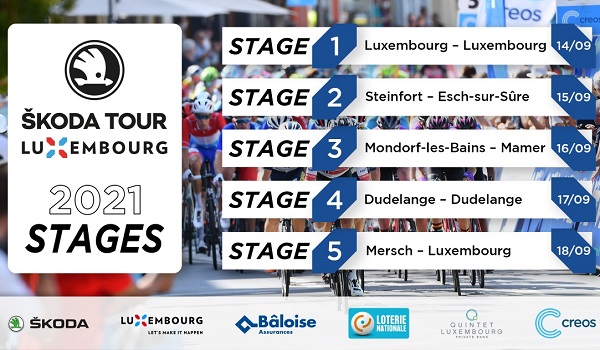 Details:
This year's Skoda Tour Luxembourg cycling race will be take place from 14 to 18 September 2021.
The first stage of the race will take place on Tuesday 14 September in Luxembourg City; the second stage is planned for Wednesday 15 September, starting in Steinfort and finishing in Esch-sur-Sûre; the third, on Thursday 16 September, will start in Mondorf-les-Bains and finish in Mamer; the fourth will take place in Dudelange on Friday 17 September; and the fifth and final stage will take place on Saturday 18 September, starting in Mersch and finishing in Luxembourg City.
Further information is available at www.skodatour.lu.
Venue: Across Luxembourg
Organiser: TDL ORGANISATION a.s.b.l.
Price: n/a
Reservations: n/a