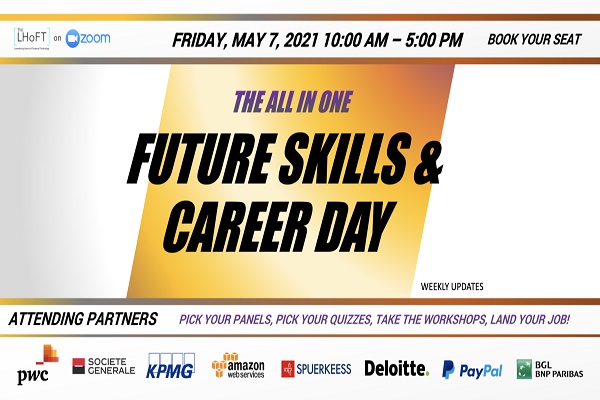 Details:
The Luxembourg House of Financial Technology (LHoFT) is organising an "All-in-One Future Skills & Career Day" for students, graduates and young professionals on Friday 7 May 2021 from 10:00 to 17:00.
This virtual event, which will be held via Zoom, is aimed at university students, recent graduates, young professionals and human resource (HR) executives who would like to explore future skills and interact with leading stakeholders shaping the future of work and employment, learn about how scale-ups and incumbents are fostering tomorrow's innovation and growing talent and meet HR and inovation leaders from whom they can learn how to get their career started and upskill.
Programme (full list of panelists, partners and instructors TBC)
10:00: "Future Skills & Career Day - The Day of Future Skills" with Nasir Zubairi (CEO of LHoFT)
10:15: "Futuring Entrepreneurship & Education in Financial Services" with Andy Bryant (CEO & Co-Founder of Vektor), Philipp Sandner (Head of Frankfurt School Blockchain Center), Sergio Coronado (Founder & Lead Coach at Luxembourg Tech School / LTS) and Tram Anh Ngyuen (Co-Founder of Centre for Finance, Technology and Entrepreneurship / CFTE), moderated by Pranjul Shah (Head of Uni.lu Incubator).
10:55: Break
11:00: "The Future of Work - An Era of Smart Creatives" with Hande Gungor (Head of Executive Recruitment EMEA at Amazon Web Services) and Sonia Koulikoff (Recruitment Manager at DO Recruitment Advisors).
11:40: "The Future of Work - Meet HR"
12:30: "Welcoming Global Leaders" with Paula Mariani (UX Director)
13:00: "Generation Talent - KPMG, Deloitte, PwC" with Ekaterina Iuraga (Innovation Advocate at KPMG), Giulia Pescatore (Strategy & Innovation Manager at Deloitte) and Zoha Ahmed (Strategy & Innovation Manager at PwC), moderated by Luca Clausen (third-year Bachelor in Business Studies from EBS)
13:40: "Generation Talent - KPMG, Deloitte, PwC - We are RECRUITERS!" with Arnaud Lorrang (Talent Attraction & Sourcing Team Leader at KPMG), Manon Waltner (Recruiter & Campus Coordinator at Deloitte) and Noemi Biro (Head of Talent Acquisition & Talent Management at PwC)
14:15: "Banks Rewired" with Steve Melan (Team Manager of IT Innovation at Spuerkeess) and Laurent Marochini (Head of Innovation at Société Générale), moderated by Armin Thon (Msc student in Quantitative Economics & Finance at Uni.lu). Full list of panelists TBC.
14:50: "Banks rewired! - Meet HR"
15:30: "Open Fair" with leading innovators and fintech entrepreneurs (further details TBC)
17:00: "A Fintech Story Untold" with Alex Panican (Head of Partnerships at LHoFT)
Several of the panels will be followed by a game quiz, with the top three scorers winning prizes such as coaching sessions with the speaker of their choice, a Fintech Foundation Course by CFTE or a pair of Our Choice - Circlular Fashion Sneakers, among others.
Further information is available at lhoft.com/en/event/the-all-in-one-luxembourg-fintech-career-gateway. Register here (via Zoom).
Venue: Online (Zoom)
Organiser: LHoFT and partners
Price: n/a
Reservations: See above