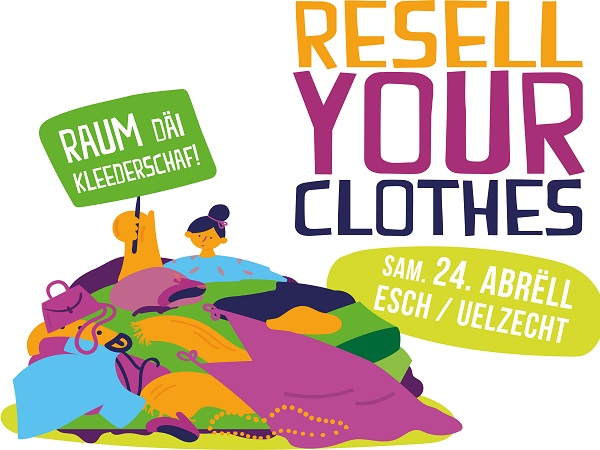 Details:
During the month of April, Transition Days Luxembourg, a nine-month virtual event around living more sustainably, turns its focus to the issue of water consumption and the major impact of the clothing industry.
On Saturday 24 April 2021, from 10:00 - 17:00, Place du Brill in Esch-sur-Alzette will be transformed into a second-hand fashion market for "Resell your Clothes" in partnership with Fashion Revolution Luxembourg, Plaidons Responsible and Rethink your Clothes. It will feature over 30 stands of pre-loved clothing offered at affordable prices, a second-hand fashion show where participants can show off their best outfits and a DIY workshop on upcycling your clothes. Held eight years after the fire at the textile factory Rana Plaza in Dhaka, Bangladesh, where more than 1,000 garment workers lost their lives while making the clothes we wear, this event aims to encourage participants to say "No" to fast fashion and its motto of "buy, wear, throw away" by enjoying fashion more sustainably.
Full details can be found here: https://www.facebook.com/events/282381673261072.
Transition Days Luxembourg, an initiative from CELL – the Centre for Ecological Learning Luxembourg, is a biannual festival that aims to crowd-source solutions to help bring about a more sustainable future, part of the global Transition movement. The first edition was held in Luxembourg City in 2018 and brought together more than 50 local organisations and 1,500 participants around the topic of sustainable food production. With the restrictions imposed by the COVID-19 pandemic, the 2020-2021 edition was transformed into a nine-month virtual event around the theme of "How to Live Together in a One Planet World?" Each month has focused on a different room in the home and the topics that connect to it, offering a full programme of online conferences and discussions, art exhibitions, podcasts, articles and weekly challenges. The event comes to a close in May and will be followed by the 2021 Transition Days Festival – more information to be released soon.
For more information about Transition Days, visit www.transitiondays.lu
Venue: Place du Brill, Esch-sur-Alzette
Organiser: CELL – the Centre for Ecological Learning Luxembourg
Price: Free entry
Reservations: N/A