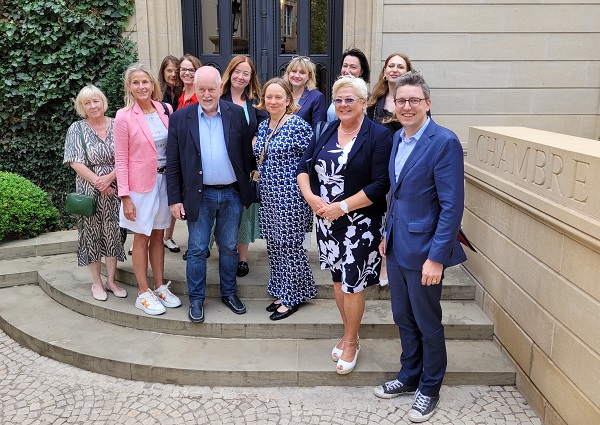 AMCHAM "flash mob" participants pictured with MP Sven Clement (Pirates) after the vote; Credit: Jazmin Campbell/Chronicle.lu
On the afternoon of Wednesday 19 July 2023, the Chamber of Deputies (Luxembourg's parliament) passed a bill making it easier for accompanying spouses of third-country nationals to access the Luxembourg labour market.
One major change introduced by Bill 8227, which amends certain aspects of the Luxembourg Labour Code, was the reduction of waiting periods for third-country nationals wishing to work in the Grand Duchy.
Currently, family members of non-EU work permit holders are required to obtain their own work permit before starting a job or their own company - a process that can take months in practice.
In order to keep Luxembourg's economy competitive, by retaining and attracting talent, this new law facilitates access to the labour market for third-country nationals (including accompanying spouses as well as applicants for international and temporary protection).
As such, third-country nationals with a valid residence permit but no work permit will be allowed to work for up to three months. Family members moving to Luxembourg for family reunification can also work in the country from the moment they arrive.
Luxembourg's Minister of Foreign and European Affairs, Jean Asselborn, noted during the plenary session that he was "very happy" about this "important law", which will allow more people to work in the Grand Duchy.
The bill received unanimous approval and passed with 58 votes in favour (only two MPs did not vote). The changes, which align with procedures elsewhere in Europe, are expected to enter into force later this month, following the usual procedures.
On the occasion of the vote, the American Chamber of Commerce in Luxembourg (AMCHAM) organised its first "flash mob" visit to the Chamber of Deputies to show its support for the bill. Speaking after the bill passed, AMCHAM Chairman and CEO Paul Schonenberg told Chronicle.lu that he was "pleased the Chamber of Deputies had accepted there was a problem for unaccompanied spouses in Luxembourg", adding that it was "really good to see them recognise the beneficial impact" of these non-EU members of the international community.
He noted that for many of the AMCHAM representatives present, this was their first visit to the parliament "so it was a good experience to see how democracy works in Luxembourg". He described the "flash mob" they had organised as a "calm, quiet and professional" one aimed at showing support for this "win-win deal". The group had their photos taken outside the parliament building before and after the vote and later celebrated the news with dessert at the nearby Chocolate House.