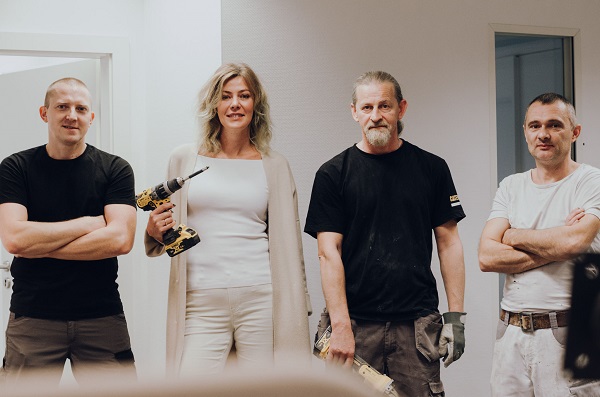 Founder Gosia Kramer and her construction team; Credit: © Kaori Anne Jolliffe / Silicon Luxembourg
The Office has extended its network and opened a third location in Luxembourg City.
After transforming an old garage and an annex of the National Library of Luxembourg, Gosia Kramer and her team have just tackled an office building. Whilst the first two locations, "Charlotte" and "City", are co-working spaces, "Suits" can be labelled as a flexible office solution. The founder recently opened the doors of her new address in the centre of Luxembourg City.
In an interview with Silicon Luxembourg, Gosia Kramer explained how her team had been working on this new location for more than a year. "The aim was to bring to the market a flexible office solution that didn't just include coworking", explained the founder of The Office.
Finding a location proved challenging and the aim was to open "Suits" by September 2020, but the COVID-19 pandemic threw a spanner in the works. "Suddenly, nobody was taking any decisions any longer and we have been just watching the entire world turn upside down. This, however, only assured me to keep pushing for the launch of this project", continued Gosia Kramer.
Ms Kramer referred to the "approach" as unique: "We started thinking of an office as a decentralised space with the headquarters and distributed teams located according to talent and resources. That's the model which tends to be associated with the start-up world".
Regarding costs, she pointed out the fact that "effective employment cost in Luxembourg, including rent, fit out, furniture, maintenance, salary and taxes per person is on average €15,000". She added that The Office concept allowed companies to "cut this cost by a third while treating an office space as leasing", whether in the short or long term. In addition, the space is adaptable and flexible depending on the size of a team on a monthly basis. "All the facility management, burden of various charges, maintenance and even reception cost is kept by The Office, so the companies can focus on what they do at best: growing their businesses", explained Gosia Kramer.
Concerning the appearance of "Suits", the look will be "contemporary and healthy", using elements like natural cork and Japanese silk.
Gosia Kramer described her long-term mission as "creat[ing] places where humans can grow alongside the technology, keeping the connection and collaboration intact".
The co-working spaces also feature new solutions to adapt to the health measures in place: "We brought in many solutions, starting with body temperature cameras, to hygienic points, doubling cleaning hours, etc. To date, we haven't had a single COVID-19 transition case at The Office".
This information has been adapted from an article first published on Silicon Luxembourg.