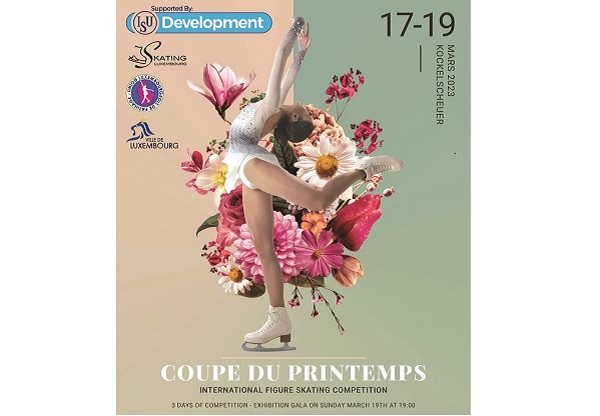 The 43rd "Coupe du Printemps" annual figure skating competition will take place at the Kockelscheuer ice rink from 17 to 19 March 2023.
It will welcome 132 participants representing 24 countries from around the world. 

Organised by the Union Luxembourgeoise de Patinage (ULP) and the Club Hiversport Luxembourg, the International Figure Skating Competition is for Senior Women and Men, Junior Women and Men, Advanced Novice Girls and Boys and Basic Novice Girls. 

This international figure skating competition is on the list of the International Skating Union (ISU), the International Skating Federation. It allows the skaters to collect World Ranking Points.

The three days of the "Coupe du Printemps" will be concluded by the Winners' Gala on Sunday 19 March at 19:00.

Provisional Schedule

Friday 17 March 2023: Junior Women SP, Junior Men SP, Senior Men SP

Saturday 18 March 2023: Advanced Novice Girls SP, Advanced Novice Boys SP, Junior Women FP, Junior Men FP, Senior Women SP

Sunday 19 March 2023: Basic Novice Girls, Advanced Novice Boys FP, Advanced Novice Girls FP, Senior Men FP, Senior Women FP; Winners' Gala 19:00

Spectators are welcome: entry is €15 for the entire event (free for children under 12 years old, payable online or at the door.
For further information, see www.coupeduprintemps.lu