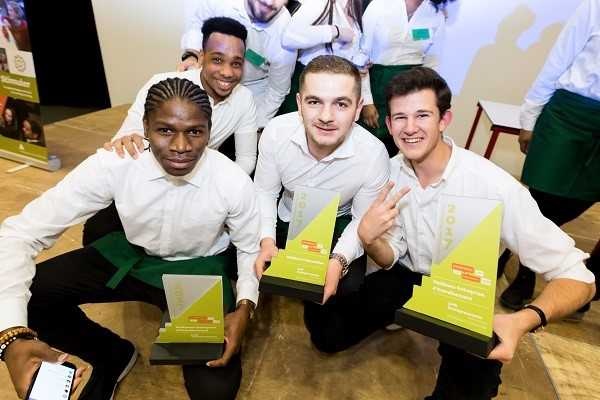 Credit: Jonk Entrepreneuren
Last Thursday, 7 December 2017, 400 students gathered to participate in the 10th "Foire des Entreprises d'Entraînement" organised by Jonk Entrepreneuren Luxembourg.
In total, 22 companies from 13 high schools attended the Geesseknäppchen Forum for this year's Training Company Fair.
The concept of the "Training Company" has existed since the 1950s and has since been implemented in many countries across various sectors (school, vocational training, professional reintegration, etc.). In Luxembourg, the concept was introduced in 2006 in the school curriculum as a compulsory course.
Training Companies are fictitious firms that are integrated into a global network constituting a real parallel market and allowing companies, although fictitious, to undertake commercial actions between them by simulating the real market. The objective is to put into practice the theoretical knowledge acquired in other courses and to acquire an overview of the functioning of a company, the interactions between the different departments as well as interactions with the exterior authorities. As such, through commercial practice, the company aims to better prepare young people for the world of work.
The Luxembourg Training Company Fair is organised once a year and allows such companies to meet and create business alliances. Jonk Entrepreneuren Luxembourg rewards the best Training Company in the following four categories: "Best Booth and Business Practice", "Best Presentation", "Best Case", and "Best Training Company 2017".
The jury, consisting of 6 members - 3 secondary school teachers and 3 representatives of the private sector - evaluated the Training Firms to then designate the winners. The big winner of the evening was "MAPA Sàrl", which won the Best Paper Awards and was also awarded the 2017 Best Training Company Award. The team was sponsored by "Cathy Goedert" and composed of the following students: Boucetta Sophia, Cherif Myriam, Da Costa Figueiro Ruben, Da Silva Pereira Joana, De Sousa Gonçalves Lino, Dominguez Martins Stephane, Dos Santos Gisela, Duarte Fabio, Ferreira Basilio, Inocencio Nareida, Mendes Leonildo, Menini Louis-Andrea, Monteiro Maria, Moura Sandro, Neves Americo, Ngouari Grace, Pires Bethanie, Christian Ryrhagen, Skandaj Klevi and Yagbasan Sema. The two accompanying professors were Toiny Wormeringer and Marie-Anne Mazouin.