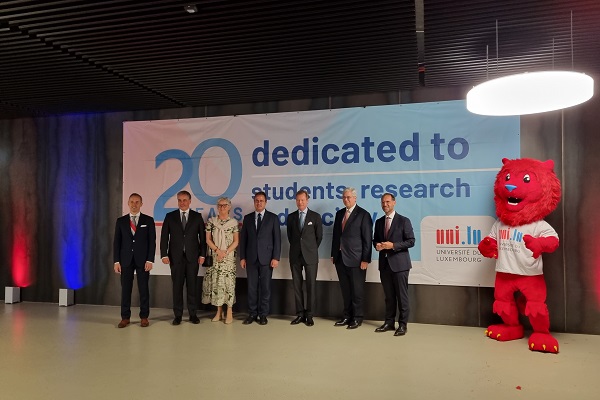 Credit: Jazmin Campbell/Chronicle.lu
On Thursday 14 September 2023, the University of Luxembourg launched its 20th anniversary celebrations with an official ceremony in the Maison du Savoir on the Esch-Belval campus.
This milestone event took place in the presence of the Grand Duke of Luxembourg and Prime Minister Xavier Bettel, as well as other politicians and dignitaries, also bringing together the university's staff, students and graduates, members of civil society and industry partners.
The ceremony featured music by Luxembourg composer and multi-instrumentalist Pol Belardi (including a specially commissioned "Soniversary" piece), a series of multilingual speeches (reflecting the multilingual character of both the University of Luxembourg and the Grand Duchy as a whole), a round table with alumni and a giant birthday cake.
The official celebrations kicked off with a welcome address by the Chairman of the Board, Yves Elsen, and an opening address by Rector Jens Kreisel. Both reflected on the evolution of the University of Luxembourg over the past two decades and how it has proved itself as an important partner in society today. Looking back, Luxembourg MPs passed the Higher Education Act in August 2003, paving the way for the creation of Luxembourg's only public university. The goal was to create a research-oriented, international and multilingual institution, which would attract talent (back) to Luxembourg and offer higher education in areas of interest for the country and society. 20 years on, it has become an international research university with a distinct multilingual and interdisciplinary character.
The University of Luxembourg currently counts 6,000 students, including 1,000 doctoral candidates, as well as 1,000 students of continuing education; together, they represent 130 nationalities. In addition, the university employs more than 2,400 people and its alumni network is composed of 14,000 graduates based in Luxembourg and elsewhere.
Rector Jens Kreisel noted that the university is "still bursting with many ideas" and emphasised the significant role it can have in addressing current and future challenges. In the area of technology, and more specifically artificial intelligence, he spoke of plans to establish a centre for digital ethics at the university. He also highlighted the important role played by "people", i.e. staff and students/graduates, as well as that of partnerships, in shaping the future.
The introductory speeches were followed by a keynote address by Professor Dame Sarah Springman from the University of Oxford on "20 years and counting; aspirations for the future". She shared best practices from ETH Zurich (a public research university in Switzerland where she previously taught and even served as rector) and her advice for how the University of Luxembourg can work towards an even brighter future. Sustainability and partnerships were key, she noted, as was cutting-edge research. She added that the University of Luxembourg could build on its existing strengths such as its interdisciplinary, multicultural and multilingual character, but could perhaps go further by promoting its entrepreneurship ecosystem.
During the round table that followed, four alumni of the University of Luxembourg shared their experiences and their post-graduation stories. They highlighted various characteristics that they felt made the university unique and attractive: its interdisciplinarity, its return on investment and impact on employability, how it helps students create a professional network, the quality of its teaching and the energy of its students and staff.
Luxembourg's Minister for Higher Education and Research, Claude Meisch, later delivered an address in which he spoke of the government's continued willingness to make higher education and research a long-term priority. He noted that there had been some doubts concerning the need for a public university in Luxembourg 20 years ago but that hardly anyone could question its "raison d'être" today. He cited various past and upcoming milestones, including the introduction of new nursing specialisations at bachelor level and plans for a new interdisciplinary centre for environmental systems. He described 20 as "a great age" at which the university has "acquired a certain level of experience and maturity" but still has "enough energy, flexibility and open-mindedness" to develop and improve itself.
In his closing remarks, Prime Minister Bettel highlighted the unique multilingual nature of the university and went on to describe the institution as a "success story". He emphasised the importance of making higher education accessible (through grants, etc.) but also of having a university in one's own country. He drew parallels with Luxembourg as a whole, attributing its "success story" to its openness, and stressed the importance of being "first movers" (for example, in the steel industry, then in industries such as funds and space). The Prime Minister also emphasised the importance of having a university that is part of the ecosystem and brings economic wealth, research and talent ("brains"). He added that the government had always viewed its financial support for the university as an investment rather than an expense, and this was "the right choice".
The official celebration concluded with the cutting of the birthday cake and a reception.
The University of Luxembourg will continue to celebrate its 20th anniversary in the coming weeks, for example with the release of 20 short videos featuring alumni.