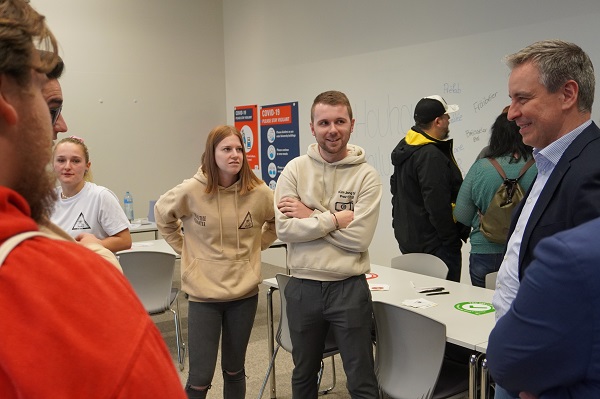 Minister Claude Meisch at 35th Student Fair; Credit: MESR
Luxembourg's Ministry of Higher Education and Research has deemed that the 35th Student Fair, was a great success, ending with a face-to-face "meeting day" on the Esch-Belval campus on Saturday.
With more than 150 representatives from 36 different student circles and organisations, the event, which focused on direct exchange, was a resounding success with the target audience (final year students, parents, students).
In addition to student circles, the University of Luxembourg and Lunex - International University of Health, Exercise & Sports presented their study programmes. Eleven secondary schools, which provided information on the many BTS-type training courses (higher technician's certificate), as well as representatives of the Ministry of Higher Education and Research (MESR), who provided useful information on studies and state financial aid, completed the presentations, etc., on offer.
"We have a very interesting and busy orientation week behind us. But above all an important week. Because post-secondary guidance is a crucial stage in the life of any future student", underlined Claude Meisch, Luxembourg's Minister of Higher Education and Research, during his visit on the "meeting day". From Monday to Friday, final year students and the interested public had the opportunity to learn, via a new digital platform, both about higher education and student life, as well as about the world of work and career prospects, and to interact live with some 217 exhibitors from fifteen different countries.
"But, as the health situation allows, we wanted to add a friendly touch to the digital student fair by giving pupils and students the possibility of establishing or deepening their contacts also face-to-face", stressed the minister.
Note: the Student Fair platform (www.studentefoire.lu) will remain accessible until 28 November 2021 inclusive. Until then, all stands and documentation for all exhibitors can be viewed freely.