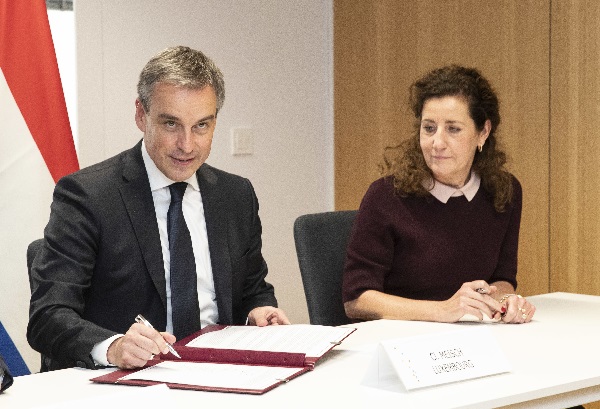 L-R: Claude Meisch, Minister of Higher Education and Research of Luxembourg; Ingrid Van Engelshoven, Minister of Education, Culture and Science of the Netherlands; Credit: European Union
Under the Luxembourg Presidency, the competent Ministers of Higher Education of the Benelux countries and their counterparts in the Baltic states met in Brussels on Friday to sign a declaration of intent on the automatic recognition of higher education diplomas.
The Benelux countries (Belgium, the Netherlands and Luxembourg) and the Baltic states (Estonia, Latvia and Lithuania) already automatically recognise the diplomas of other Member States within their respective countries or regions. Through this political declaration, the ministers have expressed the willingness to establish a bridge between the two regional cooperations in order to give impetus to the creation of a European Higher Education Area.
In 2015, the competent ministers of higher education in Benelux decided to introduce automatic mutual recognition of the Baccalaureate and Master's degree levels and, in 2018, they added associate degrees and doctorates to this scheme. For the Benelux countries, this recognition is an important outcome of the Bologna process. In 2018, the Baltic states also signed a convention on the automatic recognition of the levels of higher education diplomas and degrees.
The automatic recognition of degrees and diplomas implies that anyone who has obtained a recognised higher education qualification in one of the signatory countries is assured that this title will be recognised automatically in the partner countries, without any specific procedure to follow. This measure facilitates access to studies and the labour market in other countries. Automatic recognition also offers several advantages for students, higher education institutions, the private sector and the authorities, particularly in the areas of time and money, legal certainty and reduced administration.
This statement reflects the confidence that the Benelux and Baltic countries have in the guarantees and quality controls of the higher education systems of the other states concerned. The countries in question will now prepare a multilateral treaty, which will also allow other countries or regions to join at a later stage.