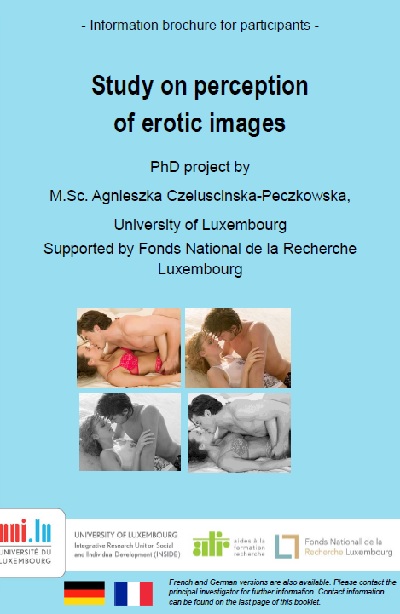 Some people are easily turned on by sexual stimuli whereas others need more time and specific conditions to get sexually excited; previously it has been thought that sexual responding is mainly biologically determined, but more and more research shows that human sexuality is more complex.
The University of Luxembourg is carrying out a study to analyse the diversity of reactions to sexual stimuli. The purpose of the current study is to build an up-to-date and extensive database of erotic pictures that are adequate for research on affective responding. It will serve as a basis for a more complex and detailed understanding of sexual functioning in men and women.
The picture set will form the basis for future studies in different psychological fields, e.g., cognitive psychology (how people think, perceive, remember and learn), health psychology (promotion and maintenance of good health and the prevention and treatment of illness), clinical psychology (mental problems), and others.
Sexual arousal is described as an unconscious appraisal in response to erotic stimuli that can result in motivational states of desire (i.e. subjective arousal), and furthermore may lead to increases in general arousal, including a faster heart beat and sweating, and a genital response (genital arousal).
Participants will be asked to look at images with erotic content and rate them. The pictures were evaluated by psychologists and approved by the local ethic committee. There is foreseen a reimbursement of €20 for participation which will be given out for participants from Luxembourg as Sodexo Gift vouchers.
Participation in this study comprises 3 parts.
1) During the first appointment a socio-demographic interview (approximately 20 min) will be carried out in which you will be asked questions about your background, education, health, sexuality etc. If eligible for inclusion in the study, you will then receive a special code, which will give you access to a webpage with erotic pictures.
2) The evaluation part of the study will be carried out by you in your own home. You will visit a webpage: www.soscisurvey.de, in order fill in the questionnaires and evaluate pictures. You will be asked to view 51 erotic pictures, as well as 10 positive, 10 negative, and 10 neutral pictures, and to rate them according to how positive or negative you feel they are, and how attractive you find them. This part of the study will last approx. 80 min. Your data will be assigned with a code, so that no identifying information will be stored. Afterwards, you will be contacted by the investigator of the study in order to fix an appointment.
3) After having finished the evaluation part you will be asked to attend a second appointment (approximately 10 min), during which you will have the opportunity to express your feelings about the study, ask any questions etc., and receive your reimbursement.
Profile needed:
- over 18 years old
- heterosexual orientation
- fluent knowledge of at least one of the following languages: French, German or English
If you would like to take part, please contact Agnieszka Czeluscinska-Peczkowska by e-mail: agnieszka.czeluscinska@uni.lu, or by tel: 466644-9365. Participation in the study is completely voluntary and the consent of the participant may at any time be revoked without notice for any reason and without drawbacks. All data collected in the study will be treated with the strictest confidentiality and stored in anonymized form only.