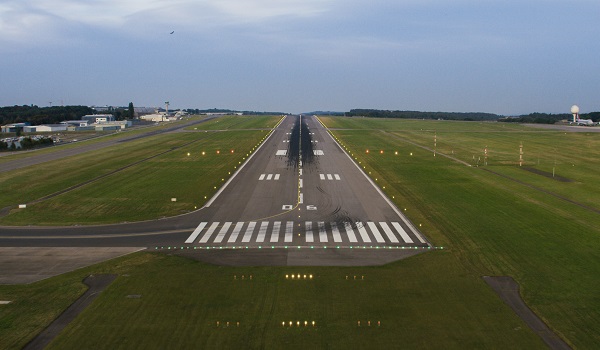 Credit: lux-Airport
Lux-Airport has announced plans to renovate the runway at Luxembourg Airport; preparation works have already started.
Lux-Airport is set to carry out a complete runway rehabilitation of the airport's single 4,000 metre-long runway. The SOMO Findel Airport Consortium, an association of experienced construction companies, won the tender for the works, which will be executed over the next two years from spring to autumn, during the airport's night curfew between 23:00 and 06:00. Working at night allows full use of the runway during opening hours. Regular flight schedules will not be affected.
The works include the full renewal of a state-of-the-art runway, including side strips, water drainage and signs. The runway lights will be updated to the most modern LED system, saving energy and reducing the CO2 emission of the airport.
René Steinhaus, Chief Executive Officer of lux-Airport, commented: "In fact, we are building a new runway on top of the old one at night time while keeping the only runway of our country open for all regular flight schedules. Therefore it was important to us to choose a well-experienced construction partner".
Stéphane Brondino, spokesperson of the SOMO Consortium, added: "We are very much looking forward to the runway renovation at Luxembourg Airport. The entire concept is designed to be efficient, safe and sustainable. Luxembourg will get a state-of-the-art runway in a high-speed timeframe".
Preparation works have already begun, with one of the first visible changes being a new security checkpoint which gives quick access to the runway construction site.
The main works will start next week with the replacement of the asphalt layer and the installation of a new drainage system. The works are being carried out in sections and the runway will be open throughout the standard flight schedule. In the following month, more than 300 people will be working on the project daily.