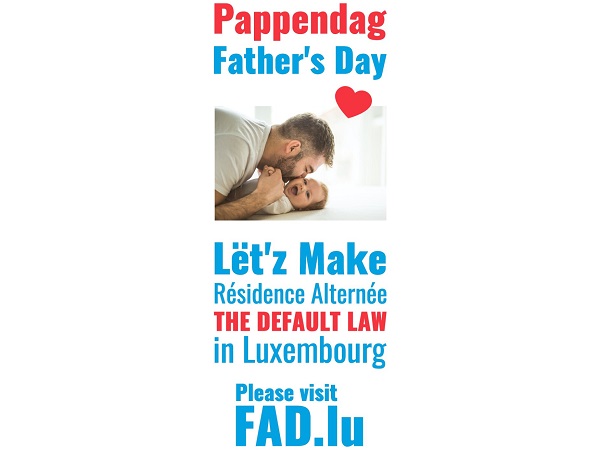 Fathers Against Discrimination (FAD) asbl has announced that it is organising an awareness-raising Father's Day (Pappendag) celebration in the Auchan Kirchberg shopping centre on Saturday 1 October 2022 from 09:00 to 16:00.
In Luxembourg, Father's Day is celebrated each year on the first Sunday of October; this year's celebration falls on Sunday 2 October 2022.
To celebrate this occasion, FAD is organising an information stand in Auchan Kirchberg (ground floor, next to the escalators). The purpose of the event, according to the organisers, is also to raise awareness of the importance of both parents' presence in a child's life, particularly after the separation or divorce of their parents.
FAD representatives present to provide more information about the non-profit organisation and its mission, namely to make "Equal Shared Parenting – Alternating Residence (Résidence Alternée)" a default rule during children's custody proceedings.
More information is available on the website www.FAD.lu.