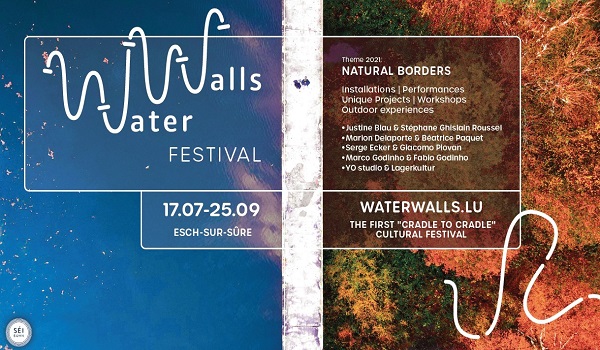 Credit: Séibühn Ënsber asbl
Séibühn Ënsber asbl launched the first edition of the WaterWalls Festival in Esch-sur-Sûre on Saturday; this cultural festival will run until 25 September 2021.
The festival launch, which was relatively spared from the recent bad weather, saw the opening of the WaterWalls Village, the inauguration and visit of the facilities, a colouring workshop, readings, and concerts by United Instruments of Lucilin.
From 17 July to 25 September 2020, five contemporary installations will serve as a framework for the artistic performances that will take place on five open stages near four dams downstream of the Esch-sur-Sûre Dam and a fifth along the Sûre valley.​
WaterWalls is the first cultural festival based on "cradle-to-cradle" principles. The theme of this first edition, "Natural Borders", invites reflection on the borders between original and artificial nature and lends itself to numerous metaphors and questions about flows, currents, technologies, the limits of nature and human intervention and the consequences of these other borders created by the dam. The WaterWalls festival is thus an opportunity to raise awareness of environmental issues through artistic, playful, participatory and educational approaches.
The festival aims to propose a contemporary total work of art which aims to raise awareness among all audiences about artistic production and its aspects of cultural consumption. In order to respond to this approach, artists were invited to create or co-create in eco-design, taking into account sustainability and circular economy criteria in their approach.
The performances and activities taking place throughout the summer are intended for all audiences.
The selected artists and projects are:
YO studio and Lagerkultur: STAU
Justine Blau and Stéphane Ghislain Roussel: Ressac|re
MAD TRIX: Nénuphars (stART-up Prize)
Serge Ecker and Giacomo Piovan: Floating Pixel
Marco Godinho and Fábio Godinho: Offrir quelques mots à la rive
The artistic installations can also be discovered throughout the duration of the festival along a route with a remarkable landscape.
​For further information, including the full programme, visit: www.waterwalls.seibuehn.lu.