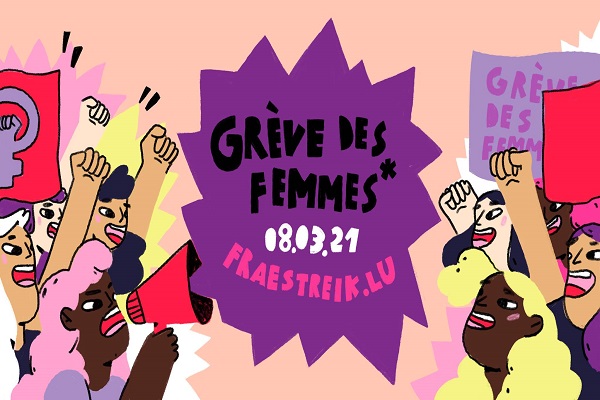 Credit: JIF Luxembourg / Facebook
Today, on the occasion of International Women's Day, several Luxembourgish organisations and trade unions are joining forces to hold the country's second national women's strike; due to the COVID-19 pandemic, activities will be held both in person and online.
The organisers have called a strike to demand equal pay, a reduction of working hours without loss of salary, parental leave for all and access to decent and affordable housing.
An online demonstration will take place this afternoon from 12:00 to 13:30. This varied lunchtime programme is aimed at vulnerable people or others who cannot attend the strike in person. Registration is via forms.gle/2zdRYThaBarcBpvX8.
Then, at 17:00, the "Feminist March" will depart the Luxembourg railway station (Gare) heading towards Place d'Armes, with a stop at the Ministry of Labour. Wearing a mask and physical distancing is mandatory during this strike.
Free buses to the march will depart Dudelange - Arrêt Nuddelsfabrik (Route de Bettembourg) at 16:15 and Bettembourg - Parking Piscine (Rue James Hillard-Polk) at 16:30. Further information is available via tel.: 516121-7130 or email: egalite@dudelange.lu.
Further information about this women's strike is available on the Facebook event page.