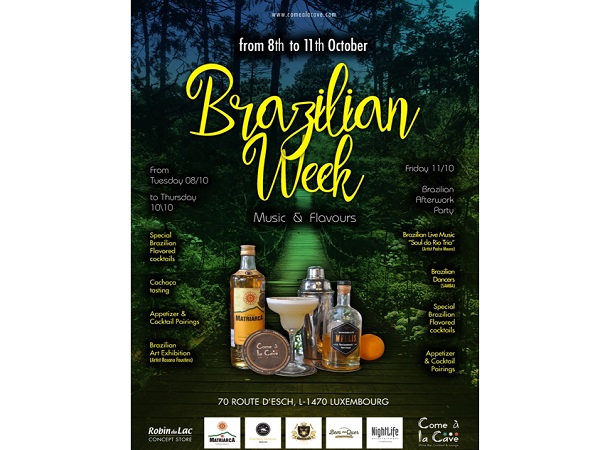 Come à la Cave, one of the restaurants in the Robin du Lac Concept Store in Luxembourg-Hollerich, has announced that it is organising a Brazil-themed afterwork next week: "Brazilian Week".
The event will start on Tuesday 8 October and end on Friday 11 October 2019 with a closing night featuring live Brazilian music and dancers.
Brazilian week builds on the concept of "Happy Hour" by innovating the after-work programming to a "Made in Brazil" proposal at Come à la Cave. The idea is to mix Brazilian music, art and appetizers with premium cachaças and special Brazil-inspired cocktails.
The programme features a cachaça tasting by Cachaça Hub, Brazilian flavoured cocktails, appetizers and cocktail pairings and an art exhibition by Rosana Faustino, as well as the live music and dancing on the Friday. The closing evening will see Brazilian band "Soul of Rio Trio" (Pedro Moura) take the stage, together with Brazilian dance performers from 21:30 to midnight.