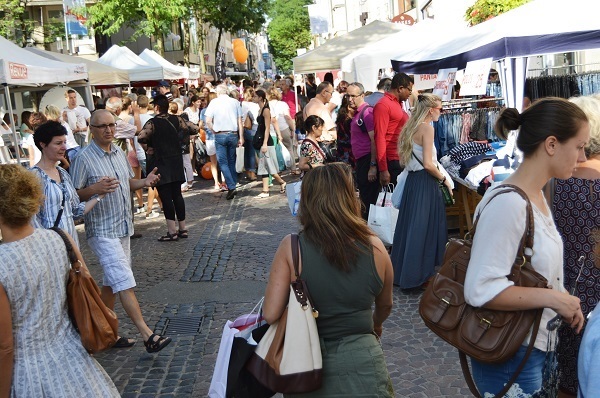 The traditional Octave market will be held from this 11 to 26 May 2019 in Place Guillaume II and Place de la Constitution in Luxembourg City.
During the Octave, the biweekly market that takes place every Wednesday and Saturday will take place in the city centre (Place Guillaume II, Rue de la Reine, Marché-aux-Herbes and Place Clairefontaine) on the following dates: 08/05/19, 11/05/19, 15/05/19, 18/05/19, 22/05/19 and 25/05/19.
Due to the presence of the Octave market, the Place de la Constitution will be closed to parking until the evening of 29 May 2019. Concerning tourist bus stops, a temporary stop has been set up on Boulevard de la Pétrusse (between Rue Goethe and Place de Metz, along the BCEE) during this period.
As in previous years, the accessibility to people with reduced mobility to the various premises of the Octave market will be guaranteed by outdoor ramps. Toilets, including one adapted to people with special needs, will be installed in Place Guillaume II and Place de la Constitution during the market period. These will be open to the public during the opening hours of the stands and restaurants. In addition, the toilets located in the Cercle Cité and the "Knuedler" car park will be accessible during this period until 22:30.
Those wishing to receive more information on accessibility can visit www.eurewelcome.lu (information available from 9 May) or contact the Integration and Special Needs Department of the Ville de Luxembourg: tel. Madeleine Kayser: 479-64215 or email: makayser@vdl.lu.