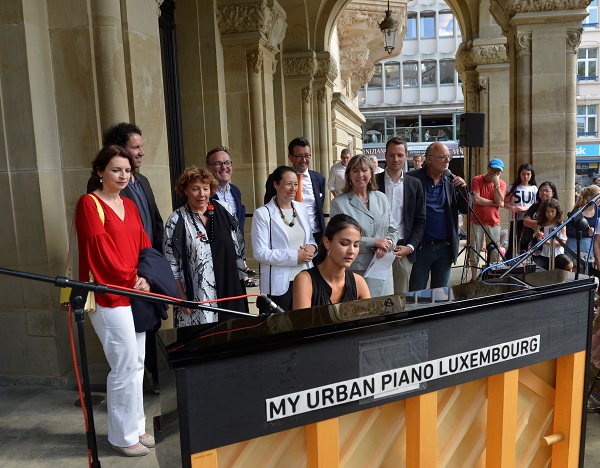 My Urban Piano 2018; Credit: Copyright Phototheque VDL, Charles Soubry
On Thursday 31 May 2018, the official launch of the "My Urban Piano" art project was held in front of the Cercle Cité building at Place d'Armes in Luxembourg city centre, in the presence of the Mayor and Aldermen of the Ville de Luxembourg and representatives of the Luxembourg City Tourist Office (LCTO).
On this occasion, the young pianist Zala Kravos interpreted the first movement of the "Sonatine" by Maurice Ravel and a work by the contemporary Brazilian composer Murillo Santo, "Batuque".
21 pianos in the public space
From 31 May to 17 June 2018, a total of 21 pianos - including a mobile installation - can be found in the streets and at tourist sites, as well as in neighbourhoods and parks of the Luxembourg capital to brighten public spaces.
Each piano, decorated by different city foyers, youth centers, scout groups, the Capel, the "Haus vun de Kanner", the Lycée Technique du Center, the Lycée Michel Rodange, St George's International School, the HMC league and CIPA Rham, is itself a work of art and fits into its urban environment. The pianos, freely accessible, are at the disposal of the public - both amateurs and skilled musicians - to spontaneously improvise micro-concerts and to make the capital vibrate to the tunes of pianos.
"My Urban Piano Luxembourg" is an annual and participatory initiative like other projects around the piano in other capitals around the world.
Closing Concert on 17 June
The closing concert of "My Urban Piano" will take place on Sunday 17 June at 15:00 in Place Guillaume II where students from the Conservatoire de la Ville de Luxembourg will perform under the direction of Gary Muller. Duration: +/- 1.5 hours (free admission).
Calling video enthusiasts
During the period 31 May to 17 June, anyone who downloads a video on Facebook or YouTube showing a micro-concert or an event centred around a piano, tagged with the keywords #luxembourgcity and #myurbanpiano2018, can earn coupons which can be redeemed with purchases of the Commercial Union of the City of Luxembourg worth €500, €250 and €150 respectively. To participate, simply send the link to the video to the address concours@vdl.lu with the name of the person who filmed, his/her address and his/her telephone number.
The 21 pianos can be found at:
• Aéroport de Luxembourg
o Piano décoré par : Lycée Technique du Centre, 9 POF1
Bonnevoie, Rotondes
o Piano décoré par : Haus vun de Kanner
Centre, Cercle municipal
o Piano décoré par : Foyer scolaire Cents
Centre, Cour de l'église St Alphonse
o Piano décoré par : Ligue HMC
Centre, Parc Ed. Klein :
o Piano décoré par : Foyer scolaire Belair Aloyse Kayser
Centre, Place Guillaume II
o Piano décoré par : Maison des jeunes « Woodstock » Walferdange
Centre, Plateau St-Esprit, Ascenseur Grund
o Piano décoré par : CAPEL
Centre, rue de la Reine
o Piano décoré par : Maison des jeunes Gare
Cents, Centre du Rham
o Piano décoré par : Centre du Rham
Gare de Luxembourg
o Piano décoré par : Foyer scolaire Cents
Gare, Hall omnisport - rue de Strasbourg
o Piano décoré par : Maison des jeunes « In Move » Neudorf
Gare, Place des Martyrs
o Piano décoré par : St Georges International School
Grund, Neimënster
o Piano décoré par : Lycée Michel Rodange
Kirchberg, Parc Coque
o Piano décoré par : Scouts Groupe Jang de Blannen
Kirchberg, Parc des Trois Glands
o Piano décoré par : Foyer scolaire Verger
Limpertsberg, Place Laurent
o Piano décoré par : Scouts Groupe CBDM
Merl, Parc
o Piano décoré par : Foyer scolaire Gare-Fischer
Pfaffenthal, Ascenseur Ville-Haute
o Piano décoré par : Foyer scolaire Merl
Pfaffenthal - Gare Funiculaire (accès Kirchberg)
o Piano décoré par : Foyer scolaire Belair Charles IV
Vieille Ville, Lëtzebuerg City Museum
o Piano décoré par : Scouts Groupe Georges Everling
Vieille Ville, Rocher du Bock
o Piano décoré par : Maison des jeunes « River » Clausen