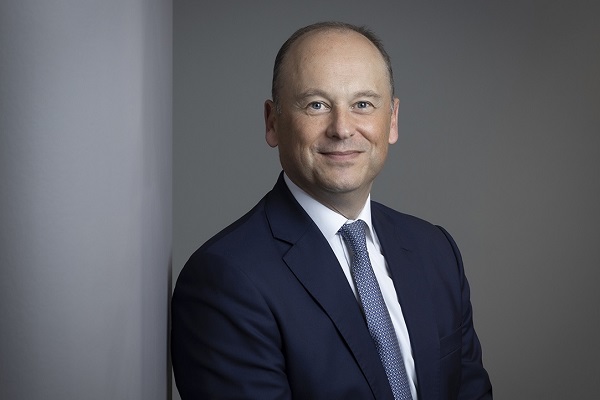 Chris Allen, Group CEO at Quintet Private Bank; Credit: Quintet Private Bank
Luxembourg-headquartered Quintet Private Bank has announced its 2022 financial results for 2022, highlighting the ongoing growth of its core business over a twelve-month period marked by the firm's return to profitability.
Total group income rose to €524 million in 2022, up 14% compared to €460.8 million in 2021. Revenue growth was supported by increased lending, which reached €4.9 billion, up 10% from €4.5 billion in 2021. In 2022, group expenses remained largely stable at €493.2 million, a 2% decline compared to €504.6 million in 2021.
Despite significant market volatility last year and sustained inflationary pressure, Quintet reported a 2022 net profit of €18.1 million. This represents a turnaround from 2021, when one-off expenses weighed on the firm's bottom line.
As of 31 December 2022, total client assets stood at €86.7 billion, a 10.2% decline from the end of 2021 primarily due to a price impact linked to volatile financial markets. The firm said it expects total client assets to recover as markets stabilise.
Quintet's Basel III common equity tier 1 ratio stood at 18.4% at the end of 2022 - above the regulatory threshold and up from 18% at the end of the previous year. The firm's liquidity coverage ratio stood at 153.2% at the end of 2022, up from 138.5% at the end of 2021 and likewise above the regulatory threshold. Current sources of funding and liquidity remain stable, according to the firm.
"We are pleased with our 2022 results, which reflect Quintet's many strengths, starting with robust geographic coverage across Europe and the UK," said Rory Tapner, Chair of the Board of Directors.
Group CEO Chris Allen, who assumed the leadership of Quintet in July 2022, added: "We are strengthening the foundation of our firm to support sustained growth. That includes through our strategy refresh - a series of measures we will implement consistently over the course of this year and 2024 - and our new five-year business plan."
"We will seize the opportunity, especially following the 2020 merger of our EU subsidiaries, to create additional economies of scale, reduce organisational complexity and increase collaboration in service to our clients," he continued. "We also intend to make further investments in the bank this year, including in areas such as client experience, digitisation and staff training. In combination, these measures will lead to greater productivity, increased revenues and lower expenses."