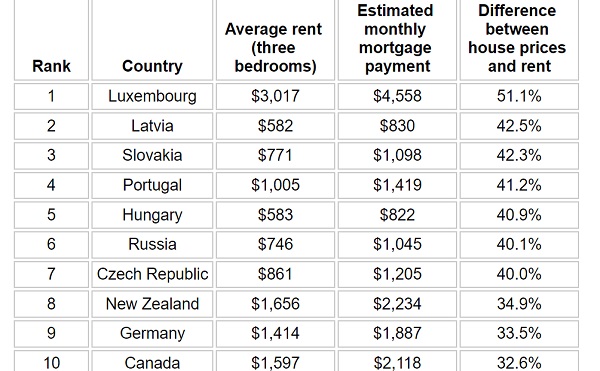 Credit: Compare The Market
A study carried out by Compare The Market has revealed that Luxembourg has the biggest gap between house prices and rent of all member countries of the Organisation for Economic Co-operation and Development (OECD).
The study analysed average house and rent prices in OECD countries to reveal those which have the biggest price gap between rent and house prices.
Luxembourg ranked highest with a staggering price gap of 51.1%, reflecting the country's high cost of living. The Grand Duchy also had the highest rent and house prices on average, with rent costing $3,017 (€2,641) a month, paired with a steep estimated monthly mortgage payment of $4,558 (€3,990).
Latvia came in second place with a substantial gap between rent and house prices of 42.5%. While house prices in Latvia were much cheaper than those in Luxembourg, it had a similarly high gap between the cost of renting and buying. With an average monthly rent of $582 (€509), average monthly mortgage payments were estimated at around $830 (€726).
Slovakia ranked third with a difference of 42.3%. House prices have been on the rise in Slovakia over the last few years and with an average rent of $771 (€675), the average monthly mortgage payment was estimated at just over $1,000 (€875).
On the opposite end of the scale, South Africa had a 0.8% price difference, with rent prices averaging at $865 (€757) and the average mortgage payment being $872 (€763).
Two countries also had negative price difference percentages, with Finland and Italy having cheaper house prices overall than rent.
The full study is available at https://www.comparethemarket.com.au/home-contents-insurance/renting-vs-buying-2021/.