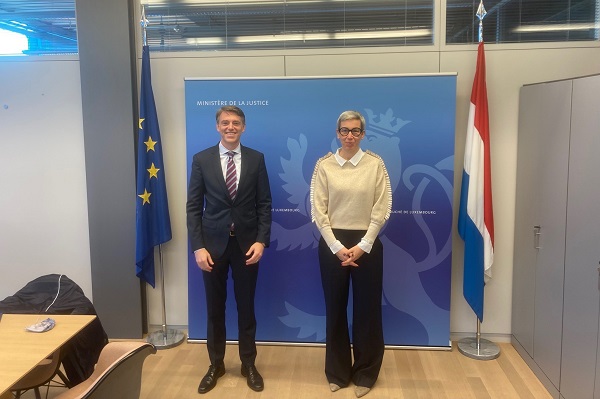 L-R: Casey Mace, Chargé d'Affaires at US Embassy Luxembourg; Sam Tanson, Luxembourg's Minister of Justice; Credit: MJUST
On Monday 18 October 2021, Casey Mace, Chargé d'Affaires at the US Embassy in Luxembourg, presented the results of this year's "Trafficking in Persons Report" to Luxembourg's Ministry of Justice.
This annual assessment by the United States Department of State indicated that, despite the COVID-19 pandemic, Luxembourg was able to strengthen the effectiveness of its procedures and the measures in place to combat human trafficking.
According to the report, Luxembourg retained its top Tier 1 ranking because the government continued to "fully meet the minimum standards for the elimination of trafficking". Government efforts to combat human trafficking included increasing funding for non-profit organisations offering assistance to victims and the establishment of the first national crime victim hotline. More specifically, victims' access to assistance services was facilitated by the creation of a new common assistance space "INFOTRAITE", set up by the SAVTEH service for human trafficking victims and the Centre Ozanam (COTEH).
The interministerial committee chaired by Luxembourg's Ministry of Justice met three times last year to coordinate actions against human trafficking. Despite the health crisis, the interministerial committee continued to provide training, partly by videoconference, aimed at enabling actors in the field to better identify situations of exploitation.
Luxembourg's Minister of Justice, Sam Tanson, reiterated her commitment to the protection of vulnerable people, who are particularly exposed to the dangers of human trafficking: "I appeal to the vigilance of our citizens to prevent or put an end to human trafficking, whether they are adults or minors, man, woman or child. Human trafficking is a criminal act and we have a collective responsibility not to allow traffickers to exploit the weakness and poverty of others".
Nevertheless, the report also noted that the number of convictions had fallen and Luxembourg's courts continued to issue lenient sentences to convicted traffickers, thus resulting in potential safety problems for victims.
The Trafficking in Persons Report is available at: https://www.state.gov/wp-content/uploads/2021/07/TIP_Report_Final_20210701.pdf.