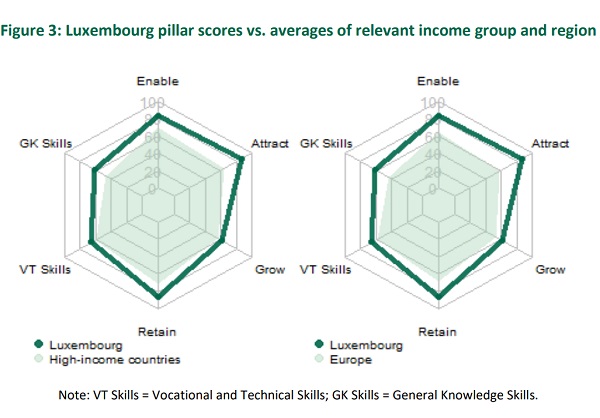 Luxembourg pillar scores; Credit: INSEAD
The 2020 Global Talent Competitiveness Index (GTCI), published today at the international conference in Davos (Switzerland), has ranked Luxembourg 8th out of 132 countries.
For its seventh edition, the GTCI report, produced in partnership with Google, INSEAD and The Adecco Group, examined Artificial Intelligence and its influence on the job market and talent development. In this context, the report ranked Switzerland as the top country overall, followed by the United States. Luxembourg gained two places compared to 2019, reaching 8th place.
Commenting on this news, HR solutions company The Adecco Group, noted that the Grand Duchy particularly stood out in the areas of attracting (2nd place) and retaining (4th) talent. Concerning the former, the country has a high degree of external openness (2nd) thanks to its strong ability to attract foreign business and talent. As for the latter, Luxembourg's world-class pension system and social protection has contributed to its solid sustainability (2nd).
Luxembourg was also found to be a highly innovative and entrepreneurial country (ranking 3rd in talent impact), but its pool of global knowledge skills (11th) would increase with greater high-level skills (19th). Luxembourg's lowest rankings were in the grow (19th) and vocational and technical skills (16th) pillars, where areas for improvement include strengthening formal education (60th) and ensuring the employability (25th) of domestic talent in the private sector.
The 2020 GTCI report also features an interview with Luxembourg's EU Commissioner for Jobs and Social Rights, Nicolas Schmit, on AI and talent competitiveness. During this interview, Mr Schmit explained: "In Luxembourg, we want to be a data hub. Therefore we have to encourage ways to own or share the really big powerful computers that can handle big data. Such an approach will have a significant employment impact, as repetitive jobs vanish and new ones are created. Some sectors, like finance -which is key to the economy of Luxembourg- will be deeply transformed : tomorrow's banks will be closer to fintechs. This means that the changes will not be just technological but also organisational".
The full 2020 GTCI report, including Nicolas Schmit's interview, can be viewed as a PDF at https://gtcistudy.com/wp-content/uploads/2020/01/GTCI-2020-Report.pdf.