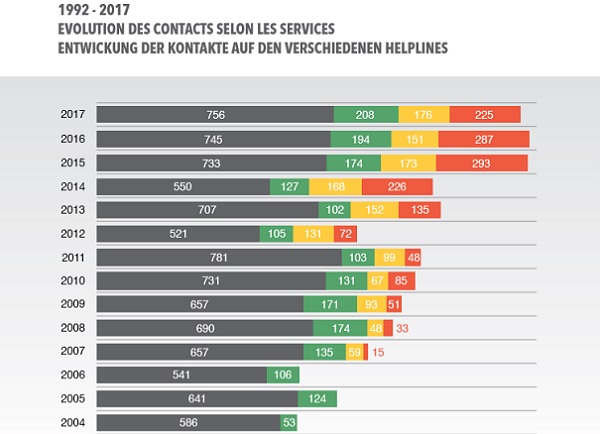 Kanner Jugend Telefon (KJT) has published its annual report for 2017, a year in which the organisation celebrated its quarter century.
According to Barbara Gorges-Wagner, Head of Direction at KJT, "2017 was a pretty emotional year. We celebrated 25 years KJT (Kanner-Jugendtelefon) with a lot of diverse activities... One of the highlights was, of course, the presentation of the annual report to Mars di Bartolomeo, President of the Chamber of Deputies. In the same way, we fondly remember the meeting with the Duchess of Cambridge, Kate Middleton, during her visit to Luxembourg. It was an honour for us to be invited to the reception at MUDAM. A central topic is always to make known the national Helpline "1 1 6 1 1 1" throughout the Grand Duchy. To this end, our ambassadors are committed to any test; we are looking forward to positive feedback and growing demands. We started the year 2017 with an English speaking conference on the subject "Cyberbullying", with speaker Georges Knell. Here we have sent the project "BOD", which will also accompany us in 2018. A big thank you to the advertising team, who was and is always with the project with its creativity and great volunteer commitment. Georges Knell, our colleague, passed away in September 2017."
She continued "In the autumn of 2017, KJT was the co-organiser of a Separation / Divorce Working Group conference. The subject of the congress was: "Eltern-Kind-Bindung im Kontext von Fragestellungen zu Sorge- / Umgangsrecht und Kindeswohlgefahrung" with Dr. Katharina Behrend. Compared to the previous year, all our helplines, with the exception of the BEE SECURE Helpline, have seen a rise in contacts by those seeking advice. 756 children and adolescents contacted 1 1 6 1 1 1."
208 young people turned to the Online Help, 26 young people and parents spoke to the Online Help in English, the Parents List has 176 parents and professionals. 225 citizens called the BEE SECURE Helpline and we responded to 512 written requests received via the BEE SECURE Helpline online contact form.
She concluded "The data collected is an important tool to identify gaps in the youth protection system and to work for the rights of children and adolescents. Let's make sure that children and young adults are heard and respected. We have made small steps in many areas. This puts the focus on the service of the 70 women and men volunteers engaged for the KJT and who act largely in anonymity without being noticed. They are the mainstay of the KJT. I want to expressly thank them for everything, also for what has not been said explicitly. Thank you to all who supported us in our mission, in any way."