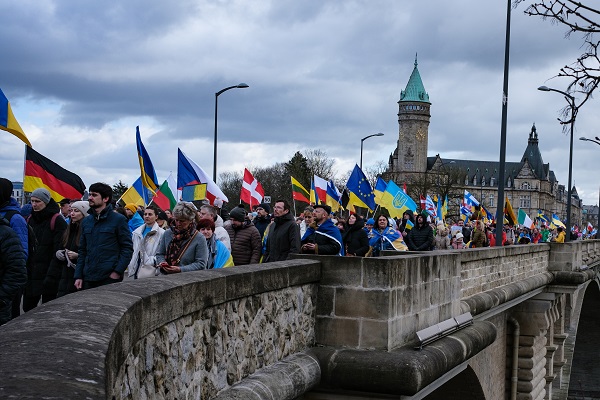 Credit: Ali Sahib
On Saturday 25 February 2023, about 1,000 people gathered in Luxembourg City to mark one year of resistance against Russia's full-scale invasion of Ukraine.
The "365 Days of Bravery" solidarity march, organised by LUkraine asbl, saw participants (Ukrainian and non-Ukrainian alike) walk from the central railway station (Gare de Luxembourg) to Place de Clairefontaine, via Avenue de la Liberté, Boulevard Franklin D Roosevelt (past the Golden Lady) and Rue Notre Dame, waving the flags of their countries in support of Ukraine, holding placards and chanting "Ukraine is Europe" and "Ukraine will win", among other slogans. A car ahead of the procession played Ukrainian music including Kalush Orchestra's "Stefania" (2022 Eurovision Song Contest winner).
During the march, representatives of LUkraine asbl thanked Ukraine's allies, not least Luxembourg, and drew attention to the sacrifices being made by Ukrainian heroes. They stressed that the "most valuable asset of a country is its people" and that the priority should be saving lives.
Upon arrival at Place de Clairefontaine, participants, holding their flags high, gathered around the statue of Grand Duchess Charlotte for the speeches. In addition to LUkraine asbl representatives, notably President Nicolas Zharov, the following political figures and diplomats (some of whom had also joined the march) addressed the crowd: Luxembourg's Deputy Prime Minister and Minister of Defence, François Bausch; Anne Calteux, Representative of the European Commission in Luxembourg; Luxembourg MEPs Marc Hansen, Isabel Wiseler-Lima and Charles Goerens; Chargée d'affaires a.i. of Ukraine to Belgium and Luxembourg, Natalia Anoshyna; the British and French Ambassadors to Luxembourg; Luxembourg MP Claude Wieseler (CSV); Claude Radoux, Luxembourg's Honorary Consul to Ukraine. All the speakers addressed the subject with passion and expressed their full support for Ukraine.
One LUkraine asbl volunteer read aloud (first in Ukrainian, then in English) a touching poem she had written about this past year's experience. This was followed by a minute of silence for the victims of this war of aggression, with participants lowering their flags.
LUkraine asbl President Nicolas Zharov thanked Luxembourg for its support over the past 365+ days, stressing that this small country had "a big heart". He stressed that what was at stake went beyond Ukraine's freedom; it is about "the people we want to be, the world we want to live in and the Europe we want to leave to our children." He highlighted the courage and unity of the Ukrainian people which has become renowned worldwide. He argued against peace "at all cost" and urged the world for continued support to save lives. He reflected on the ways in which LUkraine asbl, through its supporters in Luxembourg, has been able to contribute to humanitarian efforts in Ukraine and confirmed that the non-profit would launch its own on-the-ground humanitarian mission and representation in the coming weeks.
Deputy Prime Minister François Bausch confirmed that Luxembourg would continue to support Ukraine for "as long as needed", adding that the country had Europe's "full solidarity". He described Russia's aggression as "unacceptable" and expressed his admiration for Ukrainian courage and resistance. Speaking on behalf of the European Commission, Anne Calteux reiterated the European Union's strong support for Ukraine and praised LUkraine asbl for its efforts since the start of Russia's full-scale invasion. MEP Christophe Hansen argued that lasting peace could only be secured when Vladimir Putin is "soundly defeated", recalling that in addition to humanitarian aid, Ukraine needs weapons and there should be "no taboo" on this. Fellow MEP Isabel Wieseler-Lima read out a piece she had written for this occasion, in which she referred to Ukraine as "a nation bled dry", stressing the need for reparations and justice, but also weapons. MEP Charles Goerens emphasised the common goal of overcoming Russian "barbarism" and described Ukrainian President Volodomyr Zelensky as the "face of freedom in Europe" in 2023.
Chargé d'affaires Natalia Anoshyna agreed that weapons were "extremely important" and stressed the need to put an end to this war as soon as possible; she expressed her "deep gratitude" to Luxembourg for its continued support. British Ambassador Fleur Thomas reflected on the "unwavering support" of the United Kingdom and stressed that sanctions were working. French Ambassador Claire Lignieres-Counathe similarly emphasised that Ukraine had the support of its allies and this support would continue for "as long as possible". MP Claude Wieseler praised the bravery of the Ukrainian people, adding that the rest of the world should be thanking Ukraine (for its sacrifices) rather than the other way around. Last but not least, Honorary Consul Claude Radoux thanked everyone for one year of solidarity in Luxembourg and cited the following as the next steps: restoring Ukraine's territorial integrity and sovereignty; the withdrawal of Russia; ensuring everyone involved in war crimes is "taken to justice"; returning "deported children [...] to their homeland"; NATO should supply Ukraine with "more weapons, faster"; blocking and sanctioning commercial and financial links with Russia; the quick accession of Ukraine to the EU; contiued support from the EU for Ukrainian refugees; help from the EU in Ukraine's reconstruction, preparation for which should start now; everyone must "distinguish between good and evil" and "act responsibly, [...] all the time". He concluded: "There can be no peace without freedom. The target [...] must be a free Ukraine, a peaceful Ukraine, above all free in its decisions."