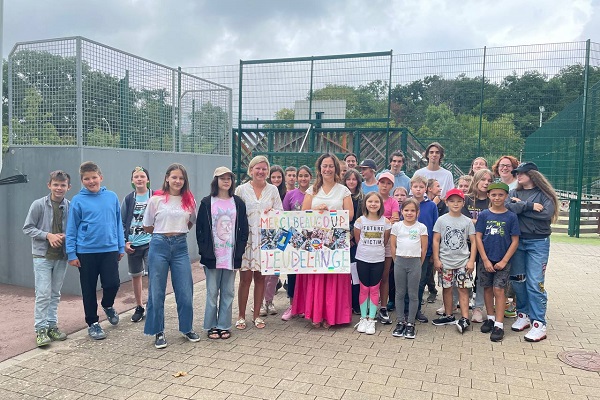 Credit: Elena Berkovitch / LUkraine asbl
Chronicle.lu recently had the opportunity to speak with Elena Berkovitch of LUkraine asbl about the success of the "Super U" summer camp and the non-profit organisation's other children- and youth-oriented projects in which she plays an important role.
Born in Chernigiv in Ukraine, 41-year-old Elena Berkovitch spent her student years working as a volunteer on various children's projects. After her graduation, in parallel with her main job, she organised large children's events and summer camps in Ukraine. In 2014, she moved to Luxembourg, where, in parallel to her work, she has promoted several projects to support the integration of expats.
Before the COVID-19 pandemic, Elena founded the Young Leaders asbl with the aim of organising activities, camps and after-school activities for expat children. Since the beginning of the war in Feburary 2022, she has been helping Ukrainian refugees through various LUkraine asbl projects. With the financial and media support of LUkraine asbl, she helped organise two projects: an easter camp in April 2022, involving close to 40 children, and Saturday workshops for 50 children between April and June 2022. When LUkraine asbl came up with the idea of a large children's camp, Elena "gladly" agreed to organise it and the Super U summer camp for Ukrainina refugee children was born.
"Our aim was to provide an educational, recreational, social and cultural experience", explained Elena. "Among others, the kids were introduced to the beauty of Luxembourg. Its culture, history and traditions. We talked about Ukrainian culture, language, as well as Ukrainian people's courage". She continued: "We were happy to give children from Ukraine the opportunity to get back to a 'normal' childhood and be happy regardless of the circumstances!"
The scout chalet "Schwengsweed" hosted the summer camp, with the support of the municipality of Leudelange and the leaders of the Leudelange scout association.
A team of professional teachers and camp leaders - all refugees from Ukraine - set up and ran the camp. Ten volunteers helped out.
A total of 135 children aged six to fourteen participated across three terms or "shifts". The first shift took place from 18 to 31 July, the second ran from 1 to 14 August and the third and final shift took place from 15 to 28 August 2022; the camp was open Monday to Friday from 09:30 to 17:00. As Elena explained, the children received three meals per day: fruit, lunch and a snack provided by Sodexo.
Regarding the success of the summer camp, Elena noted: "We have received and continue to receive incredibly positive feedback from parents and children".
Looking forward, she explained: "Nowadays, we are promoting the opening of a Ukrainian Saturday School to help in the integration of Ukrainian kids in Luxembourg".
Elena recalled that more than 5,000 refugees, including about 1,000 children, have arrived in Luxembourg from Ukraine since the beginning of the war. "Children are cut off from their ordinary lives, their home, their friends, their relatives", she said. "Our dream is to create a framework of continuous educational space filled with the Ukrainian language and Ukrainian culture, where children will not only learn, but also establish friendly relations. Also by the means of creative and developing methodics, they will get acquainted with Luxembourgish and Ukrainian history and culture".
However, the realisation of this dream depends on funding. "The most important thing for us now is to get financial support for this project", Elena concluded.