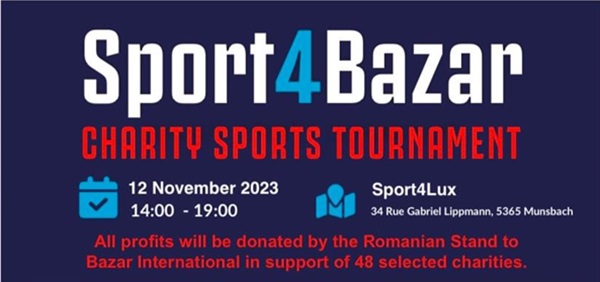 The Romanian Stand at the Bazar International (International Bazaar) is organising a Charity Sports Tournament entitled SPORT4BAZAR that will take place on Sunday 12 November 2023 from 14:00 to 19:00 at Sport4Lux in Munsbach (34 Rue Gabriel Lippmann).
According to the organisers, the event promises a great day of sports, fun and well-being at a great location, for all the family.
The sports will include football (ten teams of 4+1 players (€150/team), padel (24 teams of two players (€60/team), yoga sessions (€30/person) and more, with trophies and prizes for the winners.
Registration is open online at https://sport4lux.lu/competition/ (football, padel) or by email: info@romlux.org (for yoga).
All profits will be donated by the Romanian Stand to go towards more than 50 selected charities worldwide, within the overall Bazar International.
Romanian food, music and drinks will be available.
For further details on the Sport4Lux indoor sports venue, see https://sport4lux.lu/