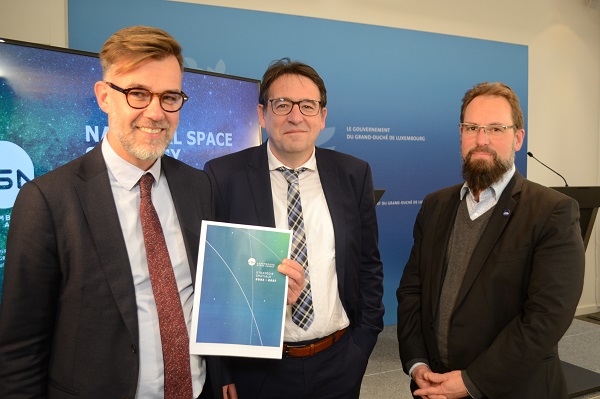 L-R: Franz Fayot, Luxembourg's Minister of the Economy; Mario Grotz, Chairman of the LSA Board of Directors; Marc Serres, CEO of LSA; Credit: MECO
On Tuesday 13 December 2022, Luxembourg's Minister of the Economy, Franz Fayot, presented the national space strategy for 2023 to 2027.
Since Luxembourg joined the European Space Agency (ESA) in 2005, Luxembourg's space policy and strategy have been reviewed every four to five years within the framework of the ESA Ministerial Councils. At a press conference on Tuesday, Economy Minister Franz Fayot, in the presence of the Chairman of the Board of Directors of the Luxembourg Space Agency (LSA), Mario Grotz, and the CEO of LSA, Marc Serres, presented Luxembourg's space policy and strategy for the period 2023 to 2027.
The objective of the strategy for this period is to continue efforts made for the development of the Luxembourg space sector as a vector for the diversification and sustainability of the Luxembourg economy, but also as a major contributor to the sustainability of activities on Earth and favouring a responsible approach to activities in space.
During the press conference, Minister Fayot said: "Luxembourg's commitment to developing a space sector dates back to the 1980s with the creation of SES. The political objective - then as now - is to make space one of the economic pillars of the country. The renewed strategy for the next five years will focus on the development of industrial skills in areas that will make it possible to contribute in part to the Sustainable Development Goals, to support Luxembourg's development cooperation and humanitarian action, or to contribute the development of other economic sectors of interest to the Grand Duchy."
The 2023-27 strategy is based on four main axes: the sustainability of economic activities; the sustainability of activities on Earth; the sustainability of activities in space; the sustainable use of space resources.
The public investment necessary for the implementation of the space strategy through participation in ESA programmes as well as in the national LuxIMPULSE programme amounts during this period to a total of around €256 million, an increase of 21.6% compared to the budget for the 2020-24 period.
Since joining ESA in 2005, two events have marked Luxembourg's journey in the space sector: the SpaceResources.lu initiative launched in 2016 and the creation of the Luxembourg Space Agency (LSA) in 2018. According to Luxembourg's Ministry of the Economy and LSA, the investments made to date have already had a significant impact for Luxembourg with a significant growth in the number of companies and the corresponding employment.
Today, Luxembourg is home to just over 70 public and private players in the sector, compared to about 20 in 2016. In terms of employment, the latest statistics indicate that this sector employs just over 1,400 people (companies and public research organisations), i.e. a doubling of the size of the ecosystem since 2016.