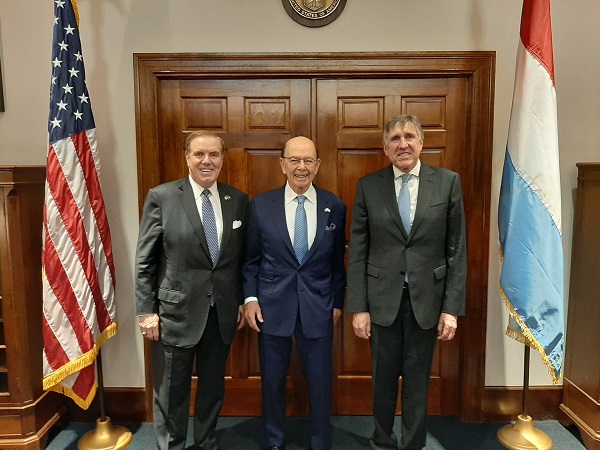 L-R: J. Randolph Evans, US Ambassador to Luxembourg; Wilbur Ross, US Secretary of Commerce; François Bausch, Luxembourg's Deputy Prime Minister, Minister of Defence; Credit: MAEE - Directorate of Defence
As part of a working visit to the United States this week, Deputy Prime Minister, Minister of Defence and of Mobility and Public Works, François Bausch, in the presence of Minister Delegate for Defence, Henri Kox, has signed two agreements in the field of Luxembourg-US space cooperation.
On Tuesday 14 January 2020, François Bausch met with John Rood, US Under Secretary of Defence for Policy, for a long-planned working visit. Together with Minister Delegate, Henri Kox, the various areas of bilateral collaboration were discussed, including peaceful collaboration in space and cyber defence. Minister Bausch emphasised the importance of partners like the United States regarding defence.
During this meeting, François Bausch signed the Terms of Reference for the Space Cooperation Working Group and a Memorandum of Understanding for Cooperation in Safety of Spaceflight and the Provision of Space Situational Awareness Services and Information.
In this context, Minister Bausch specified that space must remain peaceful and that "situational awareness" is a means of monitoring activities in this area. In addition, this capability allows for the monitoring of debris in space in order to avoid collisions with satellites. For his part, Henri Kox expressed an interest in new areas and opportunities in space, including new generation meteorological satellites and sensors.
On 15 January 2020, several thematic meetings at the operational level at the Pentagon and the Senate dealt with cooperation regarding space and cybersecurity. Firstly, François Bausch met with Wilbur Ross, US Secretary of Commerce. Discussions focussed on current and future cooperation in the field of space, including the efficient and sustainable management of satellite traffic and space debris.
The Ministers were also briefed on the progress of the US in these two areas. With regard to cyber defence, the mutual recognition was that this area is gaining importance. François Bausch commented: "I believe that the conflicts of the future will be accompanied by cyber attacks. It is therefore essential to prepare ourselves, given our society's dependence on these technologies".
A meeting with seven senators followed, focussing on bilateral political and economic relations and developments within the European Union. The senators encouraged Luxembourg's security and defence efforts.
Subsequently, Luxembourg's Minister of Defence and Minister Delegate of Defence laid a wreath at the Arlington National Cemetery in front of the Battle of the Bulge monument, in honour of the American soldiers who fell during this decisive battle of the Second World War, and witnessed the changing of the guard at the graves of unknown soldiers.
Minister Bausch also met with officials from the Center for Climate Security, a US think tank that advises governments and international institutions on the security implications of climate change. In view of the relevant studies of this institution, it was agreed to explore possible avenues for future collaboration.
In a statement released yesterday, the US Ambassador to Luxembourg, James Randolph Evans, described the visit as an example of "the close bond between the United States and Luxembourg as we continue to build on our strong defence relationship following the meeting of Minster Bausch with Secretary of Defence Mark Esper at the 75th Annual of the Battle of the Bulge Commemoration here in Luxembourg".
Discussing the recently signed agreements, Ambassador Evans added: "These agreements directly build upon the Memorandum of Understanding on Space Cooperation signed in May between U.S. Secretary of Commerce Wilbur Ross and Luxembourg Deputy Prime Minister Etienne Schneider. Collectively, the agreements create opportunities for us to work together to grow ambitiously our space industries and seek breakthroughs that will benefit Luxembourg and the United States for generations to come".