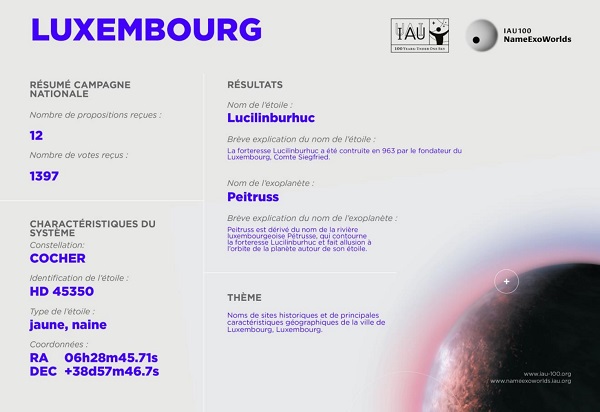 Credit: IAU
The National Museum of Natural History (MNHN) has announced that the winning name of Luxembourg's exoplanet is "Peitruss"; its star is named "Lucilinburhuc".
Today, Friday 17 December 2019, the International Astronomical Union (IAU) announced the names of more than 110 exoplanets and their stars, as proposed during the IAU100 campaign "Name an exoplanet", at a press conference in Paris. As part of the commemoration of the 100th anniversary of the International Astronomical Union (IAU100) in 2019, more than 110 countries organised public campaigns to invite participants to propose names, before selecting the finalists.

In Luxembourg, the National Committee, which is headquartered at the MNHN, invited primary and secondary school classes to participate in this project. From the twelve pairs of names proposed, a pre-selection of three pairs of names was submitted to a public vote among visitors to the Science Festival (held from 7-10 November 2019). The result of this vote was then sent for approval to the international steering committee of the IAU100-NameExoWorld project.

Ultimately, the international steering committee chose the names proposed by pupils of the 3eB class of the Lycée classique d'Echternach, who were reportedly the only pupils who met all the required criteria. Consequently, the star HD 45350 of the constellation of the Coachman located 160 light years from our Sun, will now bear the name "Lucilinburhuc", referring to the name of the fortress founded in 963 by Count Sigefroid. Similarly, its giant gas exoplanet has been named "Peitruss" in homage to the Pétrusse river that once flowed around the fortress - reminding the pupils of a planet orbiting its star.