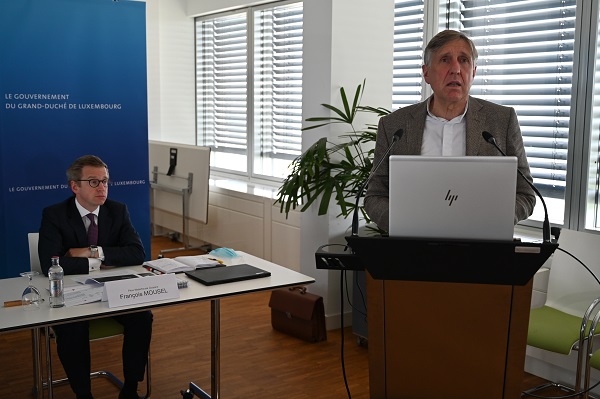 L-R: François Mousel, PwC; François Bausch, Deputy PM, Minister of Defence; Credit: Directorate of Defence
On Monday 13 July 2020, Luxembourg's Deputy Prime Minister and Minister of Defence, François Bausch, presented the LUXEOSys programme, a government satellite observation system aimed at meeting the needs of national and international organisations in satellite imagery.
This satellite will allow the Defence Directorate to become an image provider for organisations such as the European Union (EU), the North Atlantic Treaty Organization, (NATO), the United Nations (UN), the International Atomic Energy Agency (IAEA) and the Allied States, as well as other civilian users.
The initial budget of €170 million covered the acquisition and launch of a satellite allowing Earth observation by equipping a very high resolution camera. Also forseen in this budget was the construction of associated antennas which allow the transfer of images from satellite to Earth as well as the establishment of a ground segment allowing the control and management of the system over ten years and the broadcasting of images. As the complete maintenance of the system was not taken into account in the initial bill, a second bill was tabled in March 2020, which aims to increase the amount of authorised government spending by €180 million, thus bringing the total budget to €350 million.
The satellite, called "NAOS" (National Advanced Optical System), will be placed approximately 450 km in a low polar orbit and will rotate around the earth (fifteen revolutions per day), which will make it possible to take pictures of the whole of Earth. It will be used for a large number of different applications, namely those relating to military operations, security, the monitoring of disarmament treaties, the observation of troop movements in a conflict zone, human disasters and humanitarian aid, natural disaster management and climate change.
Defence Minister François Bausch expressed confidence that this project is completely in line with the values ​​of the Grand Duchy: "Maintaining democracy and human rights are the essential missions of defense. This satellite fits perfectly into this logic. If we decide to stop the project, we lose €145 million".
The general programme review and in-depth budget analysis was supported by PwC.