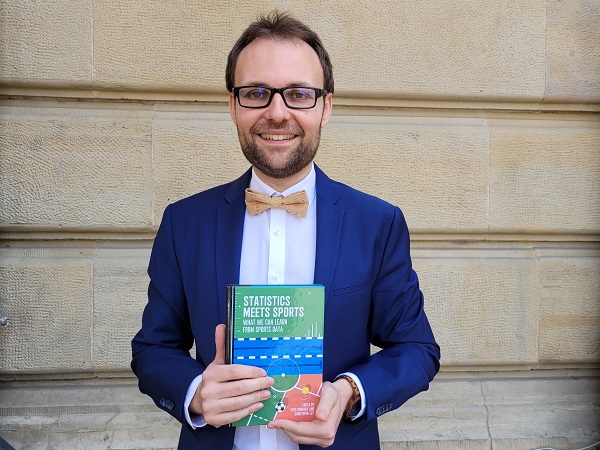 Christophe Ley; Credit: Jazmin Campbell/Chronicle.lu
Christophe Ley, Associate Professor of Applied Statistics at the University of Luxembourg, and Yves Dominicy, a data scientist working in Luxembourg's banking sector, recently published their second book together: Statistics Meets Sports.
Speaking to Chronicle.lu, Christophe Ley explained that the English-language book, which follows on from Science Meets Sports (2020), combines the editors' two passions: statistics and sports. It is also "a means to do outreach" and to demonstrate "concrete applications of statistics and the power behind data", he added.
Cambridge Scholars Publishing had approached Christophe for the first book in this series and the latter invited Yves to join him on this endeavour; the publisher then approached them both for the second book. It was up to the Luxembourgish statisticians to choose the topics, reach out to contributors from around the world and perform a sort of peer review (editing). The main goal of this second book was to cover sports that had not been covered in the first book in the series. Topics include "The Female Athlete" and how to design a fair tournament, as well as using statistics for injury prediction.
As Christophe explained, the book (his fourth so far) targets anyone with an interest in both statistics and sports but also aims to "show statisticians how interesting it is to analyse sports data". Moreover, it serves to demonstrate the existing challenges and to show people from the world of sports what is already being done in this field and how to "improve it and bring both worlds together", as well as the aforementioned outreach mission.
Statistics Meets Sports is now available on Amazon platforms, as well as from the publisher.
Both Christophe and Yves are involved in the Luxembourg Statistical Society (SLS), currently serving as President and Secretary, respectively. In addition to teaching at the University of Luxembourg, Christophe is also part of a small team of academics in the Grand Duchy who set up the company GrewIA in February 2023. GrewIA provides personalised training courses in all areas involving mathematics; the company's vision, according to Christophe and his team, is "to foster growth of individuals and businesses by harnessing fundamentals (mathematics and statistics) and their embodiment in data-driven computational sciences."