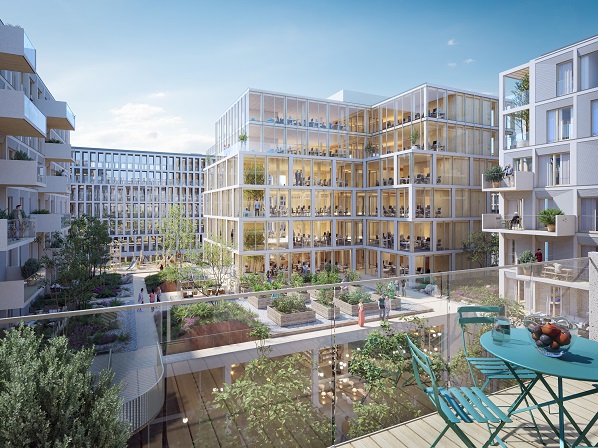 "The Roots" project; Credit: ArtBuild Architects
BPI Real Estate Luxembourg and Unibra Real Estate have presented details of a new mixed-use project, with a focus on circular economy and low carbon construction, to be developed around the Square Mile site in Esch-Belval.
"The Roots" has been selected following a call for tenders / competition launched by the Agora development company among teams of developers / architects to develop a project on Square Mile lot 41 in Esch-Belval. The winning project was presented by the team made up of BPI Real Estate and Unibra Real Estate developers, in collaboration with the architectural firm ArtBuild Architects.
Four wooden buildings will be built above a 260-space underground car park and a mixed traditional-style commercial / office base. One of the buildings will be for office space, while the other three will contain 94 accommodation units. These units, ranging from studios to four-bedroom apartments, will be designed to allow a high level of flexibility of space in order to adapt to changing family needs. The emphasis will be on biodiversity and renewable energy.
The project will boast a retail area of approximately 2,000 m², an office space of approximately 7,000 m² and a housing area of approximately 10,600 m².
The project, which will be carried out with a circular economy approach, will receive the Breeam, Well and BBCA (Low Carbon Building) labels.
The deed of sale for the land will be signed no later than 30 June 2021. Work should begin in the second half of 2022 for the project to be finalised in 2024.
After the Glesener21 projects in Luxembourg City and Gravity in Differdange, BPI Real Estate and Unibra Real Estate are strengthening their collaboration through this project and aim to position themselves as leading developers in environmentally friendly projects and key players in Luxembourg.
ArtBuild Architects has a wealth of experience in timber construction projects and will be supported by Wood Shapers.