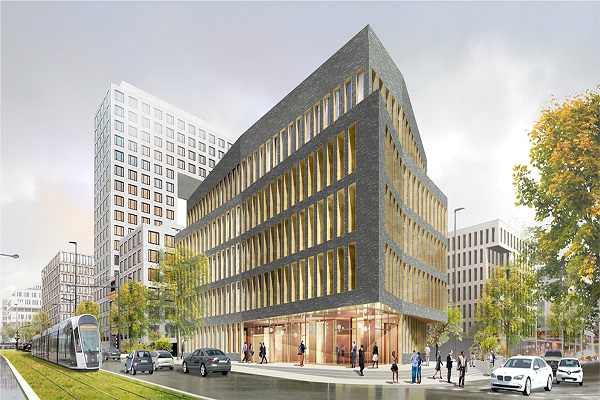 Kockelscheuer building; Credit: BNP Paribas REIM
BNP Paribas Real Estate Investment Management (REIM) has secured the Kockelscheuer building in Luxembourg from Grossfeld PAP SA.
BNP Paribas REIM, on behalf of its Next Estate Income Fund III (NEIF III), managed by BNP Paribas REIM Luxembourg, recently agreed with Grossfeld PAP on the sale of the Kockelscheuer office project in Luxembourg. The property is expected to be delivered in the first quarter of 2022 and aims at obtaining a BREEAM "Excellent" green certification. The five-storey office building features approximately 4,090 m2 of office area fully let under a twelve-year lease agreement.
The sub-market of Kockelscheuer, located in the Cloche d'Or district, is a recent multi-use area benefiting from approximately 300,000 m2 of potential office development and which already hosts many major services players. The tramway passing through the Gare Centrale is expected to connect the area at the end of 2022.
Laurent Boissin, Fund Advisor of the NEIF funds, commented: "Kockelscheuer is perfectly in line with the Fund strategy focusing on green certified recent office buildings located in the most liquid markets in the Eurozone. The 12-year lease agreement matches our investors' needs for stable and long term income. NEIF III has now allocated close to €550 million investments through eight projects across four countries".
For Grossfeld PAP, this transaction further consolidates the new Cloche d'Or district as a prime investment grade location. With the adjacent Cloche d'Or shopping centre providing a wide offer of retail, food and beverage and leisure services, the area also includes major housing developments, a school and other public amenities such as the city's largest park which will be finalised by the end of 2021. Further investments in public transport will provide an even better accessibility.
The open-ended office fund, NEIF III, provides a strong diversification in the Eurozone countries to international institutional investors. The fund has already secured one transaction in France, four in Germany, two in Spain and one in Luxembourg.
Grossfeld PAP SA SICAV-RAIF is a long-standing joint venture between Promobe (Luxembourg) and Extensa Group (Belgium) that initiated and is developing the Cloche d'Or project as a strategic extension of Luxembourg City.