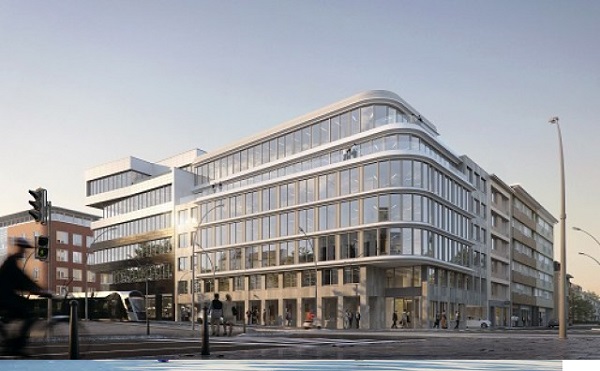 IMMOBEL Luxembourg, a subsidiary of the IMMOBEL Group, has been put in charge of the complete restructuring of the NOVA building.
On 15 May 2019, IMMOBEL announced the sale of all of its shareholding in Centre Étoile S.à.r.l. to the Monceau Assurances Group. The agreement also involved the conclusion of a real estate development contract at the end of which IMMOBEL Luxembourg S.A. will proceed with the complete restructuring of the NOVA building.
The building will maintain its tertiary focus but will undergo major renovation work including an extension located at the back, the addition of a floor set back, as well as a complete restructuring of the front façade. The project will cover a total area of 4,200m2. Occupied by the "Maison de l'Orientation" on behalf of the Luxembourg State until the end of 2020, the refurbishment will begin at the end of the current lease, in January 2021 aiming for completion at the end of 2022.
In the meantime, the building will be marketed by its new owner, in order to adapt the layout and finishing touches of the building to the needs of future tenants, under the best technical and financial conditions.
The NOVA building is located at the western entrance to the capital, in the heart of the Central Business District. Alongside the Luxembourg Stock Exchange, it boasts exceptional visibility and accessibility. Built in the 1990s, the building had reached the end of its first life-cycle and was acquired by IMMOBEL in 2016, seizing the opportunity to rebuild its reputation and grand scale. The renovation was entrusted to the Luxembourg architectural firm Beiler François Fritsch.