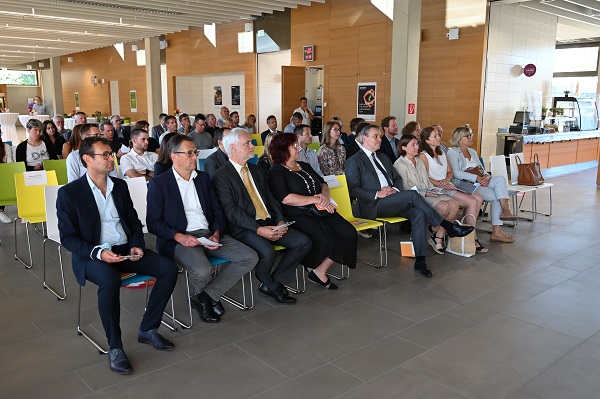 Credit: MMTP
On Wednesday 8 September 2021, Luxembourg's Minister of Education, Children and Youth, Claude Meisch, in the presence of officials from the Public Buildings Administration, inaugurated the new sports hall and canteen of Lycée Technique du Centre (LTC).
Works began in January 2017 on the school canteen, equipped with 300 seats and a kitchen, as well as the three-unit sports hall and car park.
According to the urban planning concept of the site, the sports hall and the canteen are two distinct and compact buildings set up in the former botanic gardens of the school, which made it possible to install a playground between the two buildings. To compensate for the loss of these gardens, fifteen trees were planted on the school site and seventeen additional trees were planted in Luxembourg-Limpertsberg.
The architectural concept provided for two semi-underground concrete units in order to guarantee maximum usable space. Changing and storage rooms are located in the basement of the sports hall, whilst that of the canteen houses the kitchen. The buildings also boast overhanging roofs, where bicycle parking has been installed.
The energy concept of the construction of new buildings guarantees reduced energy consumption. The large glass surfaces provide natural lighting while reducing the consumption of electrical energy. The sports hall benefits from innovative lighting which automatically adapts to natural exterior lighting. The roofs are equipped with a large photovoltaic installation consisting of 632 panels which also contribute to the effort to reduce CO2 emissions as much as possible.
The overall cost of the project was €20,000,000 including tax. The building was commissioned in September 2020.