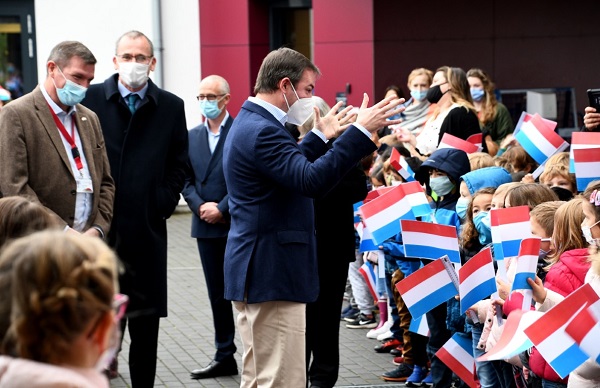 Credit: St George's International School, Luxembourg
On Thursday 15 October 2020, St George's International School hosted His Royal Highness the Hereditary Grand Duke of Luxembourg for a visit on the occasion of the school's 30th anniversary.
This marked Crown Prince Guillaume's first visit to the school, held in respect of the national COVID-19 measures in place.
Primary students greeted the Hereditary Grand Duke by lining up and waving homemade Luxembourgish flags as he entered the playground. During the royal visit, Prince Guillaume took part in a Q&A session prepared by St George's Year 6 and 7 students on the Grand Ducal Family history, a topic studied in Primary's curriculum, underpinned by the National Curriculum for England.
St George's students learned that if the Hereditary Grand Duke were not a member of the royal family he would be a chef, specialising in Italian food. They also learned that his favourite subject at school was History, he is a keen tennis player who enjoys eating Asian cuisine and he is yet to see a real polar bear. The Hereditary Grand Duke also spoke of his admiration for Muhammad Yunus, the Nobel Peace Prize Winner who pioneered the concepts of microcredit and microfinance. Mr Yunus's objective is to help combat poverty by providing small loans to help poor people support themselves. Prince Guillaume finished the Q&A session with the question: "If you were in Duchess Charlotte's place, would you have fled to the UK [during the Second World War]?" He said that this was the most difficult decision of Grand Duchess Charlotte's life, but that he hoped he would have made the same choice, adding: "History is a very tough judge, because of course you know how things unfold, in that moment you do not know if it was the right or wrong choice, but I hope I would have made the same choice as she did, but it is difficult to say".
St George's Principal, Dr Barkei, and the British Ambassador to Luxembourg, John Marshall, then accompanied the Hereditary Grand Duke on a tour of the school premises.
To commemorate this momentous occasion and to celebrate St George's 30th anniversary, the Hereditary Grand Duke unveiled a mural of the school's history, marking its major highlights from the past 30 years.