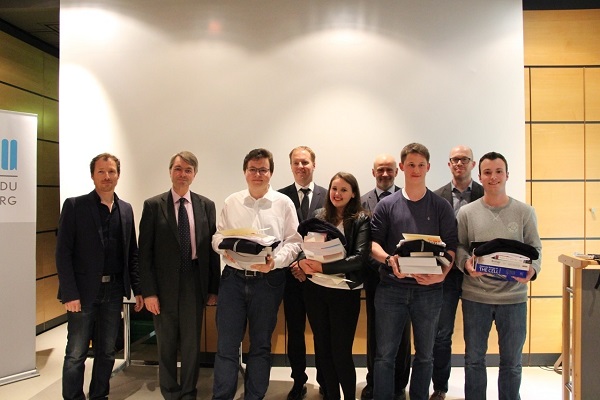 On Thursday 28 April 2016, the winners of the 2nd Luxembourg Biology Olympiad were awarded prizes at the Limpertsberg Campus of the University of Luxembourg.
The Olympiad is a theoretical and parctical science competition primarily targeting students in classes 2eC and 1eC. The overall objective is to select the four best students in biology who will go on to represent the country at the International Biology Olympiad (IBO) competition in Vietnam, as well as to stimulate student interest and investment in biology.
The competition tests students' capacities to solve biological problems and implement practical experience and necessitates inventiveness, creativity and perseverance in order to succeed.
195 students from 17 schools participated in the qualifying event which took place on 20 January 2016. 50 qualified for the semi-final which was held a little over a month later, with 15 students left to compete during the final on 23 April 2016.
The final fifteen had to unergo a two-hour theory test, involving answering 40 questions related to different fields of biology; and a practical rest focused on the "analysis of photosynthesis in algae" and "the quality control of milk".
The Luxembourg jury decided on the following ranking:
1st place: Pierre Kreins (Athénée de Luxembourg)
2nd Place: Juliette Leader (International School of Luxembourg)
3rd Place: Gilles Schmiz (Lycée Aline Mayrisch)
4th Place: Nico Thilmany (Athénée de Luxembourg)
5th Place: Adrien Wald (International School of Luxembourg)
6th Place: Bethany Pace-Bonello (International School of Luxembourg)
7th Place: Phillipe Furlano (Atert-Lycée Reiden)
8th Place: Yannick Hoffmann (Athénée de Luxembourg)
9th Place: Camarón Bissett (International School of Luxembourg)
10th Place: Lizzy Rieth (Atert-Lycée Réiden High School)
The first four in the rankings will therefore go on to represent Luxembourg at the IBO, running from 16 to 24 July 2016 in hanoi, Vietnam. At this high-level international competition, the Luxembourg representatives will go head-to-head against the best students in the world.
Photo by University of Luxembourg/ Couvidat Aurélie