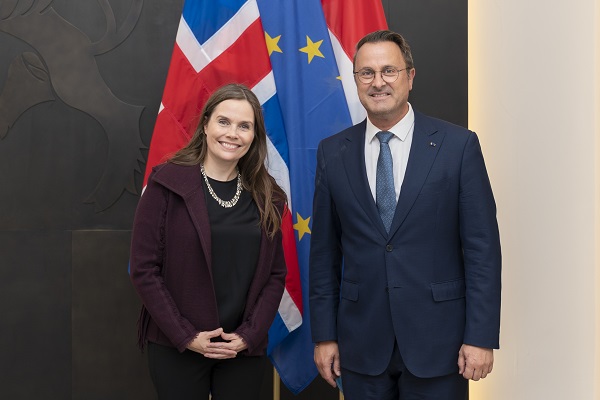 (L-R) Katrín Jakobsdóttir, Prime Minister of Iceland; Xavier Bettel, Prime Minister of Luxembourg; Credit: © SIP/Emmanuel Claude
The Prime Minister of Iceland, Katrín Jakobsdóttir, paid a working visit to Luxembourg on Wednesday 6 September 2023.
On the agenda was a meeting with Luxembourg's Prime Minister Xavier Bettel, together with the Minister for Equality between Women and Men, Taina Bofferding. Discussions focused on bilateral and European issues.
The visit followed a meeting between the two prime ministers on the sidelines of the Council of Europe Summit in Reykjavik in May 2023.
Prime Minister Bettel said on social media that the two countries "share the goal of wanting to build a stronger, greener, fairer and more prosperous Europe." He added that they shared a commitment to fighting gender-based violence and "closing the gender gap" and had agreed on Wednesday to "deepening our relations in the sectors of higher education and to exploring common projects [in] the creative industries."
A joint statement shared by Luxembourg's Ministry of State on the occasion of this visit highlighted the "close" bilateral relations between the two countries and noted that the prime ministers had "a good exchange regarding the further strengthening of bilateral relations, the close ties within the European Economic Area, international security matters including continued support for Ukraine and the need for stronger climate action."
Elaborating on Prime Minister Bettel's message above, the statement described Luxembourg and Iceland as "natural partners" with the common goal of "building a stronger, safer, greener, more competitive and a more prosperous Europe, based on the fundamental values of human rights, democracy and the rule of law." The two prime ministers expressed concern over the "backlash" on gender equality and minority rights globally and "stressed the need to reinforce the implementation of SDG5 to achieve gender equality and empower all women and girls."
Regarding cooperation in the higher education and cultural/audiovisual fields, exchanges between the universities in both countries will be deepened.
The prime ministers also "welcomed" the signing of a letter of intent between the Centre for Small State Studies of the University of Reykjavik and the University of Luxembourg on Monday 4 September 2023, which "encourages the exchange of faculty, staff, students, academic materials and information, as well as the development of joint research activities."
Moreover, the statement addressed a "strong willingness" to strengthen bilateral ties in the cultural sector and in the creative industries. The prime ministers "appreciated" ongoing efforts to conclude a bilateral audiovisual co-production treaty between the two countries in the coming six months, aimed at strengthening cooperation on audiovisual productions. They also discussed ways to "increase people-to-people contact" between the Grand Duchy and Iceland.
The statement concluded that Luxembourg and Iceland "thus reaffirm their commitment to a continuous strengthening of their bilateral ties."