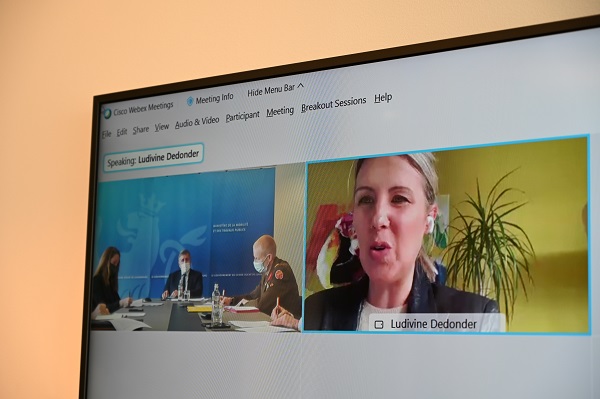 Credit: Directorate of Defence
On Wednesday 3 March 2021, Luxembourg's Deputy Prime Minister and Minister of Defence, François Bausch, had a bilateral working meeting via video conference with the Belgian Minister of Defence, Ludivine Dedonder.
This first meeting between the two ministers provided an opportunity to review the cooperation between the Grand Duchy of Luxembourg and the Kingdom of Belgium in the field of defence.
From the outset, Minister François Bausch noted the excellent cooperation between the Belgian and Luxembourg Defence Forces, stating: "Belgium is Luxembourg's closest ally, whether in terms of the joint acquisition and operation of military equipment, joint training or even deployments of Luxembourg troops abroad as part of Belgian contingents".
Luxembourg's Defence Minister particularly welcomed the Belgian-Luxembourg cooperation in the air sector, which has led to the successful establishment of a binational unit of A400M military transport aircraft in which Luxembourgish and Belgian personnel work side by side and use the planes.
Minister François Bausch also highlighted the good satellite cooperation that exists between the two countries, particularly in terms of space observation of the earth within the framework of the operation of the first Luxembourg observation satellite in 2023.
Given the new threats related to cybersecurity, both Defence Ministers agreed to explore possibilities for cooperation in cyber defence. Minister François Bausch presented Luxembourg's cyber defence strategy and the possibilities of cooperation between allies in this sector.
After seeing similar challenges in recruitment, the ministers agreed to share their respective experiences to make professional careers in the defence sector more attractive and increase the number of women in the respective armed forces.
Minister François Bausch then addressed the security implications linked to climate change by reiterating that "for Luxembourg, it will be important to rethink and broaden the traditional concept of security, by also integrating new types of risks and threats, such as those linked to climate change, which risk having geostrategic and security consequences potentially decisive for the security and well-being of citizens during the decades to come". He proposed that they reflect together on targets for reducing greenhouse gas emissions for the security and defence sector (not included in the Kyoto Protocol and the Paris Agreement).