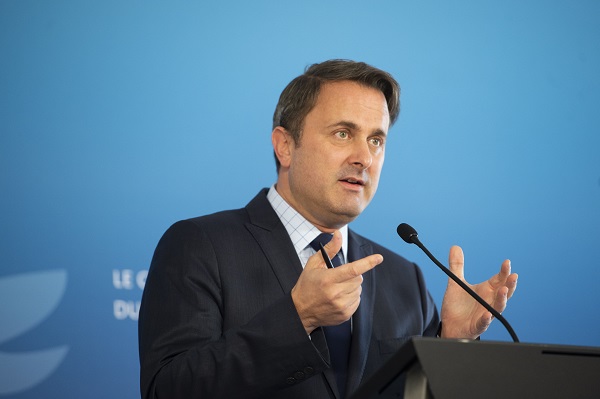 Prime Minister Xavier Bettel; Credit: SIP / Anthony Dehez
At a press conference on Monday afternoon, Luxembourg's Prime Minister Xavier Bettel and Minister of Health Paulette Lenert provided an update on the COVID-19 situation in the Grand Duchy.
Prime Minister Xavier Bettel stressed that the number of new infections had stabilised, reaching a (high) plateau, with a relatively low positivity rate (5-7%) compared to other European countries at present. Nevertheless, he recalled the difficulty of making exact comparisons due to differing testing methods.
Regarding hospitalisations, the Prime Minister noted that 48 patients are currently in intensive care, reaching just over 50% of hospital capacity. He added that these figures remained lower than those of neighbouring countries. That being said, he warned that it was essential to do everything possible to ensure that hospitals are not overwhelmed.
Prime Minister Xavier Bettel explained that, should the situation not improve this week, new measures would have to be introduced. He recognised that all measures have consequences but if cases do not fall, there would be "no other choice". He thus confirmed that a bill was introduced in government this week to allow further measures to be written into law. If the situation does not improve, MPs will vote on the new restrictions next Monday.
The Prime Minister recalled the importance of barrier gestures, such as wearing a mask and keeping one's distance, and limiting social contact in keeping the virus at bay. He added that new measures could see a reduction in the number of people allowed to interact with a household from four to two. In addition, organised sports could be subjected to new measures, with the exception of elite and professional sports. In the cultural sector, museums, galleries and libraries (where visitors circulate) would be permitted to remain open, whilst concerts and similar events could be banned. The government could also decide to extend measures such as the curfew until or beyond 15 December 2020.
Although the situation is stable and the government feels there is no need to urgently react, the next days will be decisive. The Prime Minister stressed the need to "anticipate", not just "react".
Health Minister Paulette Lenert pointed out that the virus affects people across all age groups and the government could not risk overwhelming hospitals, where staff is already almost at capacity. The government's priority at present is ensuring all patients can be treated. She stressed the need for joint efforts and awareness raising in addition to any new restrictions. She explained that the government were looking at measures that would be most efficient in reducing the spread of the virus.