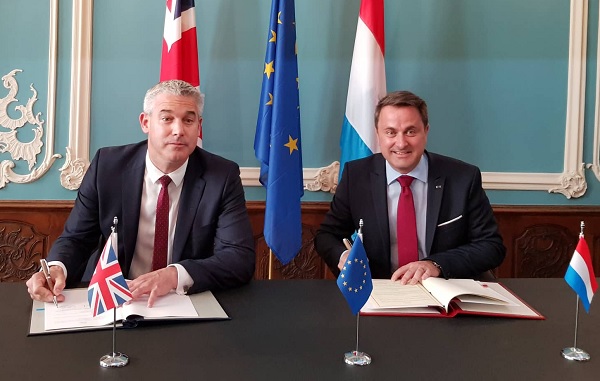 L-R: Steve Barclay, UK Brexit Sectretary of State; Luxembourg Prime Minister Xavier Bettel; Credit: Jazmin Campbell
Luxembourg and the United Kingdom today signed an agreement guaranteeing the active and passive voting rights of Luxembourg citizens in the United Kingdom (and vice versa) in local elections.
On Tuesday, Luxembourg Prime Minister Xavier Bettel and Steve Barclay, British Secretary of State on leaving the European Union, signed a bilateral agreement aimed at protecting citizens' democratic rights in the context of Brexit, regardless of whether a deal is secured or not.
Although Luxembourg's national legislation already contains provisions allowing foreign citizens to vote and stand in local elections (subject to certain conditions), EU citizens residing in the UK could lose this right in the absence of a European agreement on Brexit. Indeed, the agreement also serves as clarification of the safeguarding of British citizens' democratic rights in Luxembourg.
During a press conference held after the signing of the agreement, Prime Minister Xavier Bettel emphasised the strong historic links between Luxembourg and the United Kingdom, adding that Brexit will not put an end to this close relationship. Speaking of the treaty itself, he stressed its importance in protecting the rights of the 1,000 Luxembourg citizens living and/or studying in the United Kingdom, as well as those of Luxembourg's large British community. Xavier Bettel particularly emphasised that the agreement primarily aimed at reducing uncertainty for these citizens.
For his part, British Secretary of State Steve Barclay similarly stressed that the United Kingdom is not leaving the European continent and that it was essential to safeguard citizens' rights in order to maintain a strong partnership in the future.
In a Q&A session with the press, Xavier Bettel reiterated the difficulties in trying to reduce citizens' rights to voting rights but that this was a step in the right direction. The Luxembourg Prime Minister added that he would do all in his power to avoid a no-deal Brexit, which he believes to be in neither party's interests, although he also recalled the importance of respecting the vote. He then praised British Prime Minister Theresa May's success in achieving"the best possible agreement in a very difficult job". He recalled that a change in leadership in the United Kingdom would not impact the likelihood of a deal or no-deal scenario and when asked his thoughts on the possibility of Boris Johnson succeeding Theresa May as Prime Minister, he quirked: "In my experience, former mayors of capitals are pragmatic". He concluded that the United Kingdom was "leaving the family but not the continent" and thus, they need to continue to work together after Brexit.
Steve Barclay agreed that it was in everyone's best interests to leave with a deal but that we must also "recognise that the deal failed three times" in Parliament. He shared Prime Minister Xavier Bettel's view that it was important to continue a positive common dialogue when the new British Prime Minister comes into office in order to face common challenges.