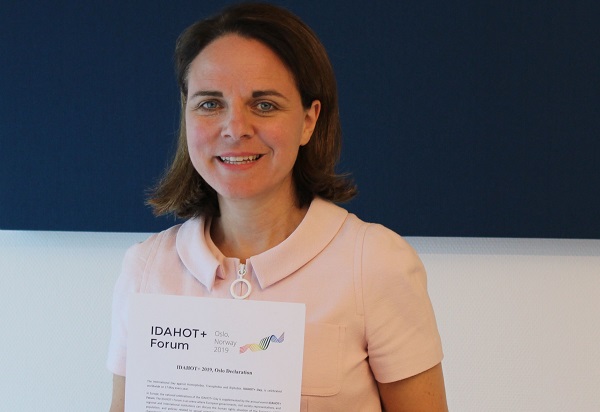 Corinne Cahen, Minister of Family and Integration; Credit: MFAMIGR
Luxembourg has signed the IDAHOT + - Oslo Declaration for the promotion of the rights of lesbian, gay, bisexual, transgender and intersex (LGBTI) people in Europe.
The declaration, signed by Minister of Family and Integration Corinne Cahen on behalf of Luxembourg, highlights the importance of key players in the framework of the European policy for equality of LGBTI people.
By signing the declaration, European ministers have called on the Council of Europe and its Committee of Ministers, the institutions of the European Union and the European States to take all necessary measures to ensure the equality of LGBTI persons, to make available the resources required to achieve this equality and to ensure that intergovernmental organisations are mandated to promote this equality at the level of political, legislative and research initiatives. The ultimate goal is to put an end to discrimination and violence against LGBTI people.
In addition, as part of the "International Day Against Homophobia, Transphobia and Biphobia" IDAHOT + Forum 2019, which took place from 13 to 15 May in Oslo, ILGA Europe, an umbrella organisation of almost 600 associations defending the rights of LGBTI people in Europe and Central Asia, unveiled the tenth edition of the Rainbow Map.
This tool assesses LGBTI equality laws and policies of 49 European countries, ranked on a scale from 0% (gross violations of human rights, discrimination) to 100% (respect for human rights, full equality). Ranking is based on laws and policies that have a direct impact on the human rights of LGBTI people in six categories: equality and non-discrimination; family; hate crimes and speech; legal recognition of gender and physical integrity; space in civil society; asylum. Luxembourg scored 70% this year and was third after Malta (90%) and Belgium (73%).
ILGA Europe cited three major advances made in 2018: the intersex awareness campaign launched by the Ministry of Family, Integration and the Greater Region, the National Action Plan for the Promotion of LGBTI Rights, adopted by the Luxembourg Government on 13 July 2018, and the law of 10 August 2018 on changing sex and the first name or civil status based on a model of self-determination. On the occasion of the Forum, OII Europe (Intersex International Europe Organisation) also launched a mapping of best practices in Europe where the Luxembourg National LGBTI Action Plan was identified as a positive example.
Finally, as part of the European policy for LGBTI equality, the European Union Agency for Fundamental Rights (FRA) will launch the second edition of a study aimed at the people concerned at the end of May. The aim is to gather information on their experiences in everyday life and on possible experiences of discrimination and hate crimes in order to encourage the EU and the Member States to implement concrete legislative and non-legislative measures to improve the situation of LGBTI people living in the EU.