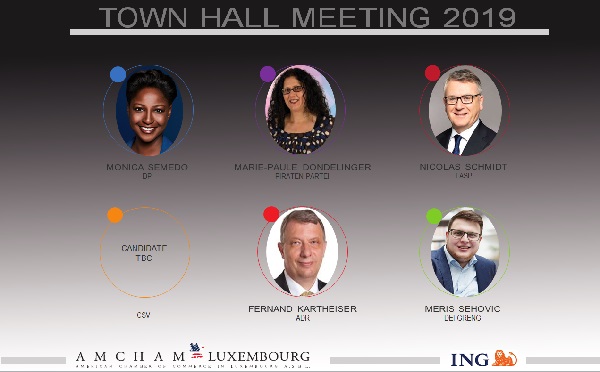 The American Chamber of Commerce (AMCHAM) in Luxembourg has announced the event "Town Hall Meeting 2019 with Key Luxembourg Politicians", scheduled for 14 May 2019 at ING Lux House, from 18:00.
Following the success of its 2018 Town Hall event, AMCHAM will hold a similar session, in collaboration with ING Luxembourg, ahead of the European Elections. The event is aimed at informing and involving Luxembourg's English-speaking foreign residents as voters in the May 2019 elections. Participating in this Town Hall Meeting will be Nicolas Schmidt (LSAP), Monica Semedo (DP), Meris Sehovic (Déi Gréng), Marie-Paule Dondelinger (PiratePartei), Fernand Kartheiser (ADR) and Isabel Wiseler-Santons Lima (CSV) (TBC) as guest speakers.
Held every five years, the outcome of the European Elections can have a major influence in our daily lives; for many residents in Luxembourg, this will be their first time voting in such elections. Voters will have the chance to elect six European representatives for the European Parliament. Once elected, their first job will be legislative, discussing, amending and voting on European laws and the budget.
Elections for the European Parliament are made by direct universal suffrage. In Luxembourg, voting is compulsory for voters on the electoral registers and this includes nationals of other EU Member States domiciled in the Grand Duchy, who have the right to vote or stand for election in the European Elections, provided that they have resided there at the time of the application for registration on the electoral roll.
Doors will open for registration at 18:00 with the event beginning at 18:30 with a speech by AMCHAM Chairman Paul Schonenberg, followed by an introduction to the evening by Charles Goerens (DP). Each candidate will then have three minutes to talk before engaging in a Q&A session with the audience. The meeting will end with a networking cocktail with food provided by ING Luxembourg. The evening will finish at around 20:30.
This free event will be held in English with a multinational audience composed of both Luxembourg citizens and diverse decision makers/leaders from throughout the international community in the Grand Duchy. Registration is online at https://www.amcham.lu/events/town-hall-meeting/.
This is the third time that ING Luxembourg is sponsoring this Town Hall initiative, taking place in the conference room of the ING Lux House (26 Place de la Gare, L-1616 Luxembourg).