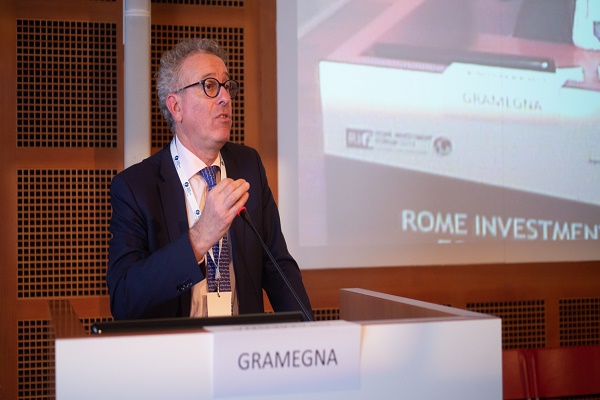 Credit: FeBaf
On 14 December 2018, Luxembourg Minister of Finance Pierre Gramegna participated for the third time as a speaker at the Rome Investment Forum, the topic of which was euro area reform and digitisation.
The forum, which is organised by the Italian Federation of Banks, Insurance and Finance (FEBAF) in partnership with the European Parliament, annually brings together actors from the world of Italian and European finance to Rome to discuss current major European economic and financial issues This 5th edition was held at a pivotal moment for Europe and the financial industry, what with Brexit, the rise of nationalism and the challenges posed by digitisation and climate finance.
Pierre Gramegna spoke at the closing plenary session on "Fixing the European Dream: Economic and Monetary Union, Banking Union, Capital Markets Union, and what else?" During his speech, he welcomed the progress made in recent months to deepen and complete the Economic and Monetary Union (EMU). In particular, he underlined the importance of the package of measures decided at the Eurogroup on 3 December 2018 and endorsed by the European Council of 14 December 2018. Thus, he underlined that the reform of the European Stability Mechanism (ESM) ) and the introduction of an additional safety net would significantly enhance the resilience of the euro and better prepare it against the risk of possible future economic shocks.
The Luxembourg minister called on Italian and European politicians to continue resolutely on the path of reform, to make European economies more resilient and to promote the spirit of solidarity among all member states. In this sense, he concluded by saying: "A strengthened euro zone will benefit not only the financial community, but especially all citizens who use the euro on a daily basis."
Besides the forum, Pierre Gramegna had a bilateral interview with Greg Medcraft, director of the finance and business department of the OECD, to discuss the practical applications of blockchain and the implications of the latest developments in the field of Fintech. In this context, Gramegna reminded that the Luxembourg government submitted a bill to parliament in September to strengthen the legal certainty surrounding the use of blockchain for the issue, registration and secure circulation of securities . Finally, the two speakers decided to strengthen the collaboration between the OECD and Luxembourg in the field of digitalisation, in particular through increased involvement of the Luxembourg House of Financial Technology (LHoFT).