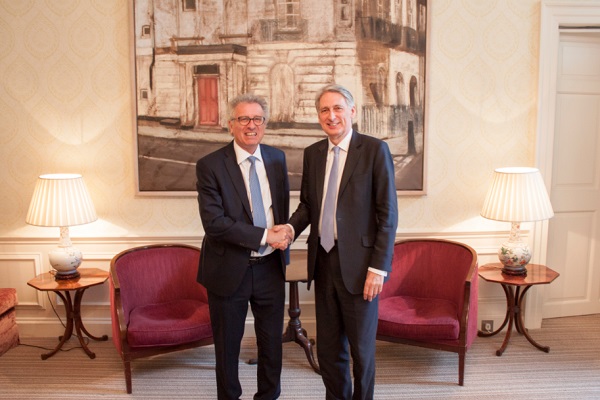 L-R: Pierre Gramegna, Minister of Finance; Philip Hammond, UK Chancellor of the Exchequer; Credit: HMTreasury
Luxembourg Minister of Finance Pierre Gramegna travelled to London for a financial mission from 30 April to 3 May 2018.
During this mission in London, Pierre Gramegna met his British counterpart, Philip Hammond, to discuss bilateral relations, the latest Brexit developments and the regulation of the financial markets.
The two ministers also discussed sustainable finance as well as the taxation of the digital economy. On this last point, Gramegna and Hammond noted that there is a consensus at a European level on the need for better taxation of digital companies, but that there remain differences of opinion as to the modalities to be retained in the short and medium term. They agreed that it is important to include all developed countries in this discussion, including the United States.
Pierre Gramegna also met with Bank of England Governor Mark Carney to discuss the implications of Brexit for financial regulation and stability, along with the challenges of developing sustainable and green finance. In this regard, the Minister of Finance also had a working meeting with Michael Sheren, senior advisor of the Bank of England and chairman of the G20 Green Finance Group, and an interview with Sean Kidney, CEO of the Climate Bonds Initiative.
In addition, the Luxembourg Finance Minister met with the President of the European Bank for Reconstruction and Development (EBRD), Sir Suma Chakrabarti, to prepare for the Bank's Annual General Meeting to be held from 9 to 10 May 2018 in Jordan. The Minister of Finance will participate as Governor of the EBRD.
Finally, Pierre Gramegna took advantage of his stay in London to meet senior financial sector leaders and in particular the fund industry, and to discuss with them their development strategy at the dawn of Brexit, and where Luxembourg fits into this context. In this vein, minister Gramegna made the opening speech of the conference organised in London by the Luxembourg Association of Investment Funds Industry (ALFI). During his speech, he stressed in particular the complementarity between the financial centres of London and Luxembourg, as well as the growing importance of investment funds in the fight against global warming.