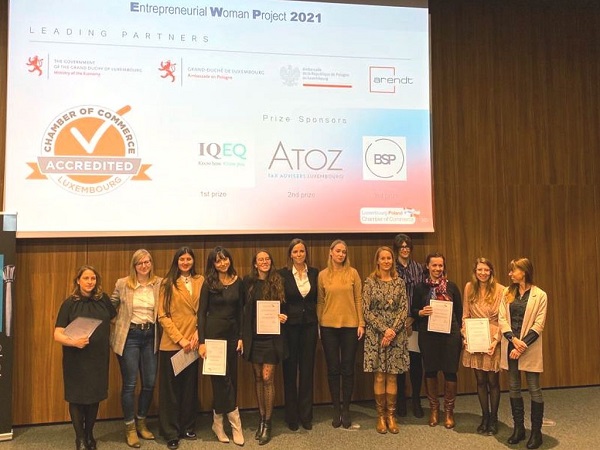 LPCC Entrepreneurial Woman Project 2021 winners;
The 8th edition of the "Entrepreneurial Woman Project" (EWP), a unique initiative for English-speaking women living in and around Luxembourg to pursue their business dream projects, was won by Daniela Voina of Eco INDesign at a ceremony held on 15 November at Arendt House in Luxembourg-Kirchberg.
Out of the 13 finalists chosen by the course participants themselves, three winning projects were presented:
1. Daniela Voina, Eco INDesign
2. Miglena Lecheva, Yummy Tummy
3. Gilly Mathieson, Hudson's Cancer Support
This year's Gala was hosted by Lisa Burke, with special guest Gosia Kramer, founder and CEO of The Office, a coworking spaces company with 3 locations in Luxembourg, who shared the backstage details of her business.
Applications opened in May for this year's 8th annual Entrepreneurial Woman Project (EWP) which consisted of a series of workshops (in English) starting on Saturday 25 September 2021 and on the six following Saturdays, ending with the graduation event in mid-November.
The aim of the initiative is to help business-oriented women in Luxembourg and the Greater Region understand both legislative and practical business issues, essential to starting a business activity in the Grand Duchy. The EWP propels women entrepreneurs into economic and social spheres. It is designed to guide them through all the administrative and legal tasks involved with setting up a company in Luxembourg. The series of workshops is a unique opportunity, not only to learn from experts, but also to connect and inspire one another. It enables participants to:
- Review their business plan
- Improve their professional skills with highly regarded trainers from international advisory and legal firms
- Broaden their business appeal and customer base
- Meet and hear from other small business owners in Luxembourg and EWP alumnae
- Expand their professional network.
Over 100 creative and ambitious women apply to take part in the project each year. To provide the optimal learning experience, the LPCC selects up to 30 participants for each edition (in 2020, this number was limited to sixteen due to COVID-19 restrictions). Between three and seven new businesses are launched in Luxembourg each year as a direct or indirect result of the project.