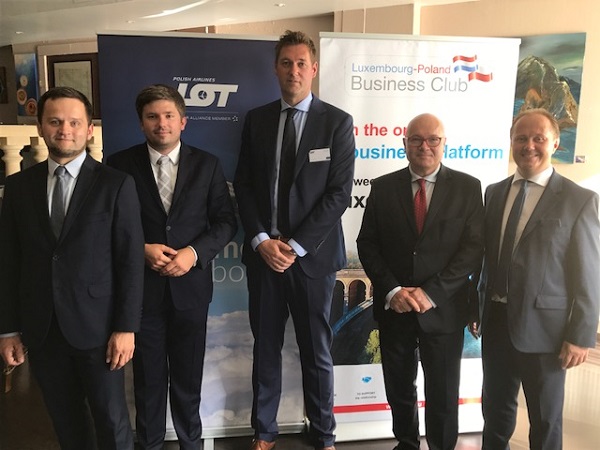 On Tuesday evening, the Luxembourg Poland Business Club (LPBC) celebrated the first anniversary of the LOT Polish Airlines route linking the capital cities of Luxembourg and Poland.
The Ambassador of Poland to Luxembourg, Piotr Wojtczak, addressed the 50+ attendees and acknowledged that the route has opened new possibilities, both regarding business collaboration as well as for leisure. He mentioned that he has plans for promoting Poland in the Grand Duchy over the coming year.
Adrian Kubicki, responsible for PR at LOT Polish Airlines, shared the good news of extra daily flights (Mon - Fri) being added between Warsaw and Luxembourg from 18 May 2017. The route uses Embraer 170/175 turbo-prop aircraft, and the schedule allows for connectivity to its long-haul network, with flights announced recently for Los Angeles, Astana and other destinations, as well as increased frequencies to Seoul, Tokyo and Kiev. He revealed that the airline's long-haul business has grown by over 100%. He also mentioned the renewal of its fleet which includes the brand new Boeing 787 Dreamliner; next year they also expect delivery of the new 787-9 with more business class seats. He also presented the LOT Premium Economy Class and its benefits, and the Economy Class.
Domestically, he covered flights to 8 other cities from Warsaw, each within 50-60 minutes range. For Luxembourg flights, the best connections are to destinations including Beijing, Tokyo, Seoul, Los Angeles, New York, Toronto, Chicago and Astana (Kazakhstan). Using Warsaw as a hub, there is a minimum 30 minutes connection time; the airport has a capacity of 20 million passengers/year.
Johan Vanneste, CEO at Lux-Airport, recalled that he was delighted when LOT announced their Warsaw-Luxembourg route in early 2016; and is even more delighted that they have doubled their capacity on that route. He recalled that the airline was the first to operate the Boeing Dreamliner in Europe, as well as the 1st to use the Embraer 175 in Europe.
Artur Sosna, Chairman of the LPBC, thanked the Polish ambassador and LOT representatives for attending, and talked about the similarities of connecting people.
Adam Tymofiejewicz of the LPBC mentioned the chamber's next event on 11 July on mobility - see wee.lpbc.lu for details.
The evening continued with a walking dinner of Polish specialities.
Photo (L-R): Adam Tymofiejewicz, LPBC committee member; Adrian Kubicki, LOT; Mark Mooren, LOT; Piotr Wojtczak, Polish Ambasador; Artur Sosna, LPBC Chairman