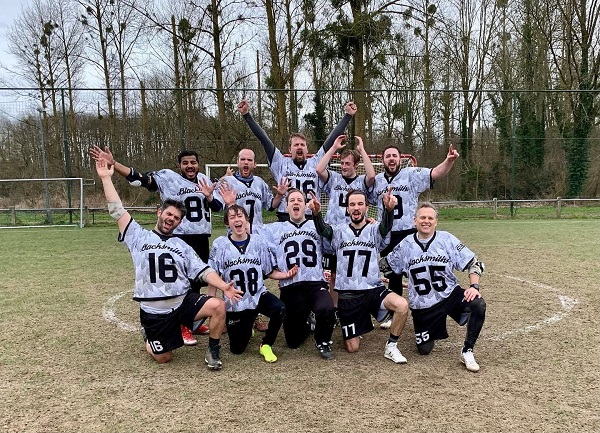 Blacksmiths team picture; Credit: Luxembourg Lacrosse
Blacksmiths Luxembourg, the men's team of Luxembourg Lacrosse Club, faced off against Belgian rivals Antwerpen Armadillos on Saturday 12 March 2022; the Luxembourg team secured their fourth victory in as many games.
The Blacksmiths entered their first competitive match of the year with a number of unavailabilities due to injury (C. Forbes, P. Barbier), professional commitments and other factors. The team entered the competition in Korbeek-Lo, Belgium with a minimum crew of ten players. Their rivals Antwerpen Armadillos had improved rapidly over the course of the Belgian Lacrosse League season, promising strong opposition in the match.
Led by national team goalkeeper #29 J. Spautz, Luxembourg's defence forced outside shots on the Armadillos. In attack, the team relied on the speed and dodging of #7 P. Bingen (President of Luxembourg Lacrosse) and #41 D. Seuchter with some offensive quarterback play from #46 H. Schmidt who returned to coaching from retirement.
Luxembourg lacked a dedicated face-off player and had to rely on transition and set offensive plays from defensive plays rather than winning the ball outright. The midfield composed of #98. M. Gerin, #19 D. Milosavljevic and #77 S. Salvatore had the unenviable task of playing every offensive and defensive task.
The first quarter showed both teams looking to shake off rust after a lengthy break with numerous unforced errors on both sides. Luxembourg's attack capitalised on two opportunities offered in transition and scored twice, both goals from #7 P. Bingen with an assist from #16 B. Swartz. The Blacksmiths never looked back after the initial lead, locking Antwerp out in the second quarter while scoring another three goals - one from #16 B. Swartz and another two from #7 P. Bingen. This was Bingen's first clean hattrick in his career, scoring four clean bounce shots the Antwerp goalkeeper could not stop. The fifth goal for Luxembourg, ensuring the team an excellent position of 5-0 for the second half, followed a time-out where player coach Schmidt had allocated specific jobs using a set play trained the day before.
Coach Schmidt commented: "We loved playing again and seeing Pit [Bingen] use the opportunities we produced together. The icing on the cake was to scheme and then score of this play, confirming that our tactics were the right choice for this day".
Antwerp eventually managed to translate their numerous good opportunities into their first goal, leading to a score of 7-1 for Luxembourg, two minutes before the end of the third quarter. Luxembourg had previously managed to translate good offensive display into three goals, one more for #7 P. Bingen, one for #41 D. Seuchter and one not discounting the opposition. #55 G. Ritts was vocal in the huddle before the final quarter: "They can come back from this, we need to win this quarter".
The final quarter saw the attack generate several drawn-out possessions, challenging the Antwerp defence to regain the ball. The resulting long possession times left Luxembourg winning the quarter by four goals, leaving the final score at 11-1.
The game's score was made possible by the team's strong teamwork and focus on individual contributions. Special awards were given to Luxembourg's game Most Valuable Player (MVP) #7 P. Bingen, who scored a new personal best of seven goals, and Most Improved Player #98. M. Gerin, who impressed his coach and teammates alike in his first match after only a few months of training with the team. Another noteworthy performance came from #77 S. Salvatore, who missed the goal a few times but won a number of important groundballs and managed game time well throughout the match. #16 B. Swartz had a record four points from two goals and two assists as long pole, offering a distinct advantage in transition with his ranged shooting and aggressive take away defence.
The team defence and aggressive ride of the attack prevented the individual strengths of the Armadillos to come to bear, leaving Luxembourg in a comfortable lead throughout the game.
Coach Schmidt added: "There are so many big individual contributions, I will miss too many to make individual mentions, but we can say that all ten players today were needed to come together and beat a motivated, fast and physical Antwerp side that clearly has improved significantly over the winter".
Bingen also commented on the performance: "It was great to be back on the field. I didn't expect to score so many goals, but the passes kept on coming on the right moment and the simple pass down-pick down that we trained worked out well. It was good teamwork from everyone".
Gerin added: "Great away game played today by all players. Many goals were scored by our team, and many more will be scored next week".
Coach Schmidt summarised: "Today so many things clicked and we got dividends from practicing specifically for this match up. The next match will be tough against Namur Knights who will have something to prove after a one goal loss in the mud last year, but we will be ready. Today, kudos to all players".
Luxembourg Lacrosse are looking for new players (all levels of experience) as well as new sponsors for their currently league-leading Lacrosse teams and their local grassroots work in Luxembourgish schools. Further details are available at: www.lacrosse.lu or via email: Schmidt@lacrosse.lu.