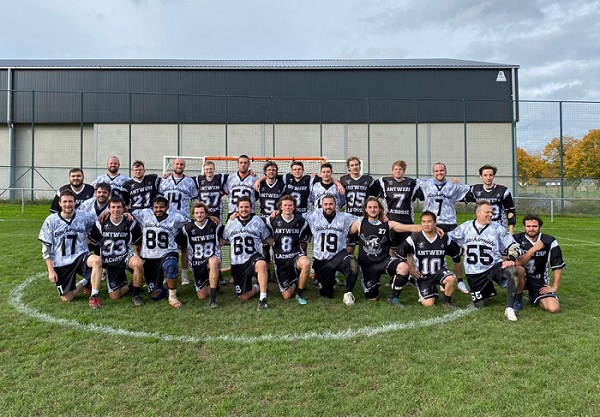 Luxembourg Blacksmiths Lacrosse;
On Saturday 30 October 2021, the Luxembourg Blacksmiths lacrosse team entered their second competitive match this year against Antwerp Armadillos and came away with a record score.
The comparably new Belgian side had displayed promise and individual strength during their first match in Luxembourg, forcing the Blacksmiths to play to full potential: the absence of almost half a roster including the top scorer of the last game and win over long time foe and rival Opueye Foxes required all parts of the depleted roster to deliver.
The team managed its first lead through #52 and Luxembourg World Cup veteran, H. Coelho, at the 3:30 mark in the first quarter. The Armadillos equalised around the minute mark. Luxembourg found its footing better on both ends of the ball – player coach G. Ritts made the right offensive change and identified World Cup veteran #69 R. Jegen as the likely candidate to capitalise on increasingly well-timed offensive movement. Before Jegen could fully capitalise, two other players made their mark - #7 P. Bingen; (3 G; 2 A) and defender-turned-short stick #26 C. Forbes; 1 G; 1 A traded favours and assists with each other, leaving Luxembourg up 4-1 with two assisted goals. Each goal caught the Antwerp unaware of an open player's movement towards the goal including a crisp pass from Forbes from behind goal through the defense to a well timed sprint into open space by Bingen.
Up 4-1, Luxembourg never looked back, in particular because another World Cup veteran, #69 R. Jegen now found their range, pouring five consecutive goals for a decisive lead and a clean hat-trick. Bingen contributed here as well – the attack line of Coelho, Bingen and Jegen benefitted from increasingly strong understanding and well-timed movements. As top scorer, Jegen was labelled MVP on account of his scoring streak's decisive impact on the game.
Antwerp managed their second goal by #20 L. Pereira e Silva in the third quarter to 10-2 but this could not turn the tide. Luxembourg offensive possessions kept working for quality shots, supported by an increasingly staunch defense forcing many turn overs. The opposition's defense improved, forcing Luxembourg to use different scorers (#14 J. Kirch; 1 G; 1 A - #17 O. Griebel; 2 G; 0 A - #19 D.) and #52 H. Coelho (3 G; 0 A) made his final contribution, leaving the final score at 16-2.
"The scoreline shows that the work on team offense done in the last months bears fruit" commented H. Coelho, "it was really good to see several guys evolve and adjust to a defence that really played their heart". Head coach H. Schmidt mentioned the importance of the face off team's success, giving the team a substantial edge in terms of possession: "Richie and Pit showed what any one player on our roster can do with eleven points between them. But none of this would have been able without David (#19 D. Milosavljevic; 0 G; 2 A) and long stick Nirav ( #59, N. Haria, 5 GBs) dominating between the lines."
The team is now moving into their next game against Namur Knights on 21 November looking to confirm its current ranking and move into the winter break into a sunnier spot. Coach Schmidt outlined "Some teams discount us as a one-man-show that has nothing to do with our local activities today proved them wrong, 16 goals and six assists across eight players says it all".