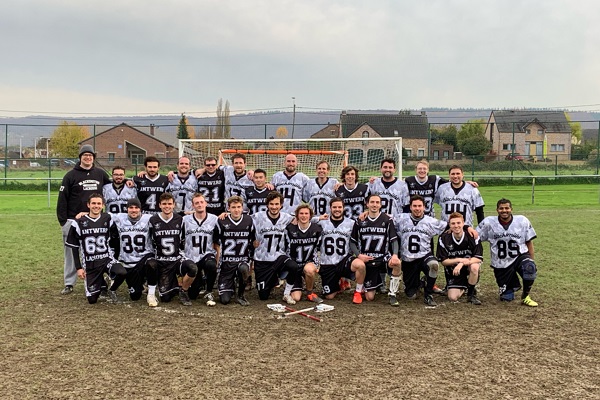 Luxembourg Blacksmiths vs Antwerpen Armadillos; Credit: Coach Henning Schmidt
The Luxembourg men's lacrosse team, the Blacksmiths, have continued their winning streak in the 2019/20 Belgian Lacrosse League with a 10-0 victory against the Antwerpen Armadillos on Sunday.
As explained by Coach Henning Schmidt, the Luxembourg Blacksmiths went up against the recently founded Antwerpen Armadillos in Namur over the weekend, following their first ever home win against the Namur Knights last month.
The 14-strong team, plus Coach Schmidt, underwent some changes ahead of the match due to the absence of Cory Forbes (defence) and L. Föhr (goalkeeper). Instead, K. Brillen from Trier Legionäre joined the team as goalkeeper. According to Coach Schmidt, "Brillen showed a strong performance in his first ever competitive game". Other changes involved the return of Melvin Hatto (defence) following several weeks of injury, D. 'Scusi' Seuchter and the addition of Pit Bingen (offence). The game was preceded by a practice camp almost the whole roster.
For their part, the Armadillos were composed of eleven players including three new players, as well as the team's top scorers and goalkeeper M. van Steirteghem.
According to Coach Schmidt, the game got off to a "sluggish" start until Luxembourg international Richie Jegen scored the first goal in just under three minutes. In his offensive midfield role, Jegen went on to score three goals (his first hat trick). In the words of Coach Schmidt: "Jegen's well placed shot for the 1-0 had not been followed by comparable efforts and #77 M. van Steirteghem racked up substantial saves. While he would ultimately report 22 saves, Luxembourg did find the net after a ten minute drought, extending the lead to 2-0 after the first and 3-0 after the second quarter".
Coach Schmidt continued: "The opposition continued to play hard and committed throughout, forcing Luxembourg's Blacksmiths to play with high pressure throughout to compensate for the lack of goals in the first half with continued dominance over ground balls and overall possession".
The third quarter saw Jegen, A. Robillard and O. Griebel score additional goals for Luxembourg, leaving the Blacksmiths 7-0 in the lead at the end of the three quarters. In the final quarter, Robillard went on to score two more goals with a final goal from S. Salvatore leaving Luxembourg with a final victory of 10-0.
Commenting on the game, Coach Schmidt said: "First of all – their [Armadillos] goalie was incredible. He forced us to produce very high grade shots to even have a chance to get a goal. And for a team this new, you can already tell these guys will be no push-over next time. For our team – this was a hard fought win, Antwerpen forced us to be at our best for 75 minutes. We now look forward to the final 2019 game on Sunday, 24 November against the Griffins in Ixelles".
This victory leaves Luxembourg with a record two wins and one loss in the 2019/20 Belgian Lacrosse League. Speaking of the next game in the league, Coach Schmidt added: "Griffins will be tough but we won't travel thinking we lose there. It's our chance to improve more and get to 3-1 record. As for 2020 – we want to continue to improve and build the core of the team travelling to Poland and playing for Luxembourg".
For more information on the team, how to participate and details about Lacrosse in general, see http://lacrosse.lu/index.php/join-the-team/ or contact Coach Henning Schmidt via email: schmidt@lacrosse.lu.